Home and commercial gyms have quickly embraced punch pad stations as a very popular option. Due to their punching pads, these stations are perfect for beginners. Even more advanced boxers can practice combination punching while training with these punch pad machines. Being an amateur boxer, I have also been in touch with one of these magical devices, a Nexersys boxing machine. As an American company, Nexersys develops interactive fitness products for commercial gyms and residences.
The Importance And Utility Of A Nexersys Boxing Machine
An attached screen tablet provides an interactive & intelligent training experience with their famous Nexersys Boxing machine. You may also improve your skills from the comfort of your own home with the Nexersys boxing machine. You are sure to improve your boxing skills as well as get an intense full-body workout with this interactive trainer.
With the innovative platform, you will have access to seven leather striking pads, a 22-inch LCD monitor, 3-axis accelerometers, and bilateral arm movements. A lefty or righty can use it easily, and it allows for fun training. The game is both mentally and physically demanding, and it provides feedback and detailed statistics so you can improve over time.
Features Of Nexersys N3 Boxing Machine: Your Future Pride
Though there are many other boxing machines or different training devices available on the market, Nexersys Boxing machine has some unique features that make it distinguished from others. Following is a detailed overview of its versatile features for you to consider. It is these features that made this training machine my first choice.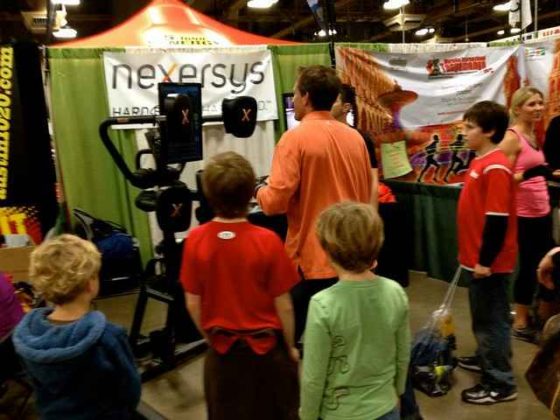 3D Animation: One Of The Loveliest Features Of Nexersys Boxing Machine
The N3 Software offers fast-paced, challenging animated training with the 3D Trainer in Mitts mode and the 3D Fighter in Sparring mode. The 3D Avatars provide the user with directional strike prompts and multi-colored reticles to train. Engaging animated rewards are given to users for successful strikes. This feature appeals to the customers and the users equally and they buy and use it heartily.
Improved Body Pad Makes The Nexersys Boxing Machine Best To Use
For anatomically accurate torso representation, use the N3 Single Body Pad (SBP). Using compression and coil springs, the SBP can move in three directions (X, Y, Z). By combining this new shape and movement, realistic body, hook, and uppercut strikes can be taught and trained. Foam cushions with multi-axis relief reduce impact forces. Foam cushions with multi-axis relief reduce impact forces. Real-time performance feedback is provided by sensors in each pad.
High-Intensity Interval Training
The goal of interval training is to burn more calories in a shorter amount of time through short exercises performed at near-maximal intensity followed by short rest periods. This feature ensures improvement in the performance of the trained young boxers.
Feedback From The Screen
In addition to strike accuracy, power, reaction time, strike counting, and points, a summary of exercise performance is included. In addition to real-time feedback during training, feedback is provided at the end of each session. They may judge their performance with the passage of time and can improve themselves accordingly.
Using The N3 App
Among the features of this app is a summary of exercise performance, including strike accuracy, power, reaction time, Strike count, and points. The feedback is provided both in real-time and at the end of each training session. By downloading the app, you can automatically keep track of your progress.
You can find this app on Google Play and the play store. This app provides you to make unlimited profiles. This app is very easy to use. Explore it you will find a new training session and with the completion of the new challenge you can show off in front of family and friends.
Advantages Of N3 Boxing Trainer
A personalized high-intensity interval training experience with 3D gloves and sparring partners is offered by N3 Elite as your personal trainer and sparring partner.
Interactive Fitness: Use 3D animated gloves to learn flashy techniques and battle with a 3D showdown partner to keep you engaged throughout your workout. Boxing and mixed martial training involve a variety of techniques, including jabs, crosses, hooks, elbows, and uppercuts, Straight and angled shots can be taken with the swiveling head and body pads.
Workout Customization – Select from a variety of round types, workout durations, and skill levels to design a workout that suits you. Make sure you are using the correct technique in your training with Nexersys. Learn, train, and score 50 progressive strikes and combos, including defense moves.
Real-Time Progress Tracking – Better your accuracy, shots, and power in real time. The N3 app lets you share your progress on social media when you are using cloud-based Wifi content. You will be able to create unlimited user accounts on Nexersys App and track your progress using any Nexersys derives and Nexersys apps.
Read other related articles: