ASUS ROG GL753 laptop is one of the best gaming laptops that you can get at a reasonable price. The laptop offers excellent specifications and features that you can enjoy while gaming and also while performing other tasks. This is a perfect laptop for those who prefer to play games and use it for daily work. This machine isn't just a gaming laptop but also a functional laptop.
Specifications of Asus Rog GL753
The Asus ROG GL753 is the entry model of the Asus ROG series. It belongs to the company's latest series of gaming laptops. ROG GL753 has been introduced with the new generation of Intel Kaby Lake hardware platform.
The laptop Intel Core i7-7700HQ processor. It has been clocked at a maximum speed of 3.5GHz. It is supported by the Intel HD Graphics 630 integrated graphics. The device will be available in two variants. One variant of the device will be powered by 8GB DDR4 RAM and another variant of the device will be powered by 16GB DDR4 RAM. Both variants will vary in the storage department.
Design and Build:
The Asus ROG GL753 is a full-size gaming laptop that can be your best companion to conquer the world. It's got a beautiful black brushed metal finish and is made from strong, durable aluminum, so it can stand up to wear and tear. It's also got plenty of power to tackle your games, even if you want to play them on their highest settings. 
The ROG GL753 is a powerful gaming laptop that can handle all the action you can throw at it. Its Intel core processor and NVIDIA GeForce GTX 1050 graphics card give you all the power you need to run games like Overwatch and CS: GO on ultra-high settings. The GL753 is also great for heavy multitasking, so you can switch between games, stream videos and music, and browse the web without any problems.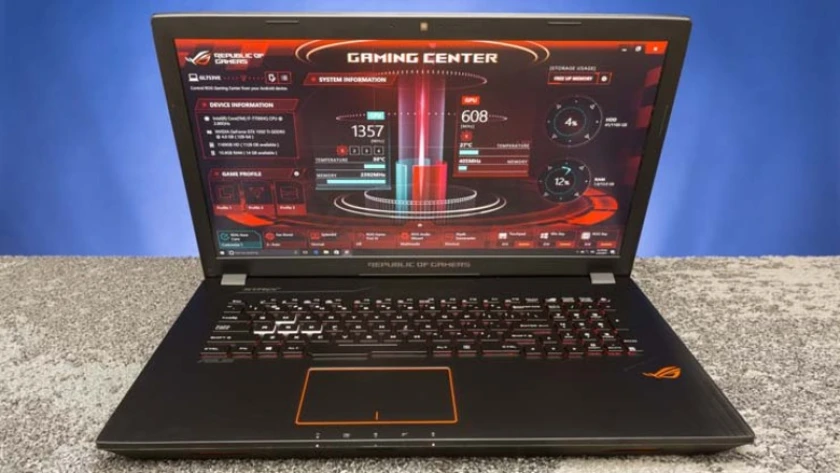 Specification of Asus ROG Strix GL753VE
Features

of Asus Rog GL753
Display

17.3-inch

, 1920 x 1080
Processor

2.8-GHz Intel Core i7-7700HQ

Storage

256GB SSD

RAM

8GB of DDR4


Upgrade upto
32GB

of DDR4

Graphics
Nvidia GeForce GTX 1050 Ti (4GB)
Keyboard

RGB-backlit

External Port

3.0 USB port, LAN port

Card Slots
SD-Card Reader
Bluetooth
4.0
Hard Drive
1 TB, 5,400rpm, Serial ATA
OS
Windows 10
Optical Drive
BD-ROM/DVD, 8X
SSD
256 GB
Touchpad
4.1 x 2.8-inches
Weight
6.4 pounds
WiFi
Intel 2×2 802.11ac
Battery
Around 6 Hours
Display and Audio:
The display here is a 17.3-inch LED-backlit display that supports a resolution of 1920×1080 pixels. It has a wide-viewing angle of 178 degrees, which is great for watching movies. It has a refresh rate of 60Hz, which means that the screen will display up to 60 frames per second. The display is matte, so it doesn't reflect light, which is great for using the laptop outdoors.
The result of the Asus GL753's audio quality is very smooth. The Asus GL753 full-size keyboard with crisp keypress sounds comes with a high-quality audio output, which is the result of the Asus GL753's audio quality. The sound is clear and detailed, with a nice amount of bass, and can be easily adjusted to your liking with the bundled Audio Wizard software.
Performance and Gaming:
Laptop computers are often designed for only one thing: performance. This means that the physical design of the computer itself is usually quite cumbersome. However, Asus has created the GL753 to make a gaming laptop that maintains the same level of performance as other computers in its class while remaining lightweight and portable.
The GL753 is a 17.3-inch gaming laptop that is highly recommended for anyone who wants to play the latest games. It has a SteelSeries gaming keyboard and a multi-touch touchpad.
Internal:
Removeable Bottom plate: 

Firstly,

 

remove all the screws, including the screw under the rubber cap. Then the bottom plate will be detached.

Cooling system:

Heat pipes are connected to the cooling fan which makes the body of the laptop cool.

Storage:

It takes

 

plenty of storage
Touchpad and Keyboard:
The Asus GL753 has a full-size keyboard that is very comfortable to type on, with a number pad, and a numeric keypad. The keys are well-spaced, with good travel and feedback. The keys feel good, but they are a bit loud for a notebook keyboard. The keyboard is backlit, with two levels of white backlighting. 
The 4.1*2.8-inch touchpad is fairly wide, with a textured surface, and two dedicated mouse buttons. It's a Microsoft Precision touchpad, and it works well. The two buttons are a bit stiff, but they feel good. The touchpad is accurate and responsive.
Battery:
The Asus GL753 comes with an 8-cell Li-Polymer battery, which is non-removable. It supports a 4-cell battery like the one used in the previous iteration of the laptop. The battery is rated at 6 hours of backup, which is pretty decent for a gaming machine. The battery life can be extended by tweaking some of the settings, like adjusting the screen brightness and reducing the audio volume.
Software:
The GL753 comes with a clean install of Windows 10 Home and a smattering of pre-installed utilities and games. Asus also includes a series of utilities, including Sonic Studio, Sonic Radar III, Asus Web Storage, and Power4Gear Hybrid, a program that allows you to switch between battery and AC power according to your activity.
Pros and Cons

Asus ROG Strix GL753VE
It has NVIDIA GeForce GTX 1050 TI GPU
Best performance in gaming
Great storage capacity
Remains cool while playing games
Battery life is above average
Easy to use, Keyboard with RGB backlighting
For a 17-inch laptop, the keyboard and touchpad are small
Cheap design
The styling of gamers isn't for everyone
With a hundred fewer, the same GPU is found in other laptops.
High-setting games cause problems
Conclusion:
With the Asus Rog GL753, you're getting a laptop that's built for gaming. It boasts a powerful and stylish gaming laptop that's sure to turn heads. It's packed with top-of-the-line hardware, including an Intel Core i7-7700HQ Quad-Core Processor and an NVIDIA GeForce GTX 1050 graphics card with 4GB of video memory.
This combination enables you to play just about any game you can think of. The laptop's Full HD display is stunning and vibrant for an immersive gaming experience. There are many laptops on the market, but that was one of the best options that you can consider.
Laptop-related articles: