The Google Pixel Pen does more than just drawing and writing. By pressing and holding the button, you can circle anything on your screen, and the Google Assistant will help you identify, define, or provide information related to it.
As a techbuzzer writer, I find Google's word definitions and synonyms feature incredibly helpful. Though I'm not reluctant to type, I habitually use the Google Pixelbook Pen button quite often.
Want to know why? Let's learn everything about the pixel pen and other styluses for your devices.
What Is A Pixel Pen?
Google Pixelbook Pen I integration with Google Assistant, enabling users to expand their learning and productivity by interacting with the content displayed on their screens. It feels just like a pen on paper, with pressure sensitivity and tilt support, making it easy and natural to use.
Difference Between Google Pixel Pen And A Stylus
The Google Pixel Pen is a special pen made for Google Pixel devices. It can detect the pressure level of your touch, and holding angle as well. Pixelbook pen works smoothly with Pixel devices and certain apps. Therefore falls under the category of the stylus but it has more advanced features than an ordinary stylus.
A stylus is a general term used to refer to pen-like input devices designed for touchscreen devices. It enables users to interact with their devices more accurately and serves as an alternative to using fingers for tasks such as tapping, drawing, writing, and more.
How To Use Pixelbook Pen
When you press the Google Assistant button on the Pixelbook Pen, just draw a circle around the item on the screen. Then, you will receive the outcome on the Google Assistant window.
Now enable Google Assistant for your pen by following these steps:
For the first-time use of your Pixelbook Pen, activate it by tapping it on the screen.
Tap on "Pen Stylus" and then select "Assistant".
Now indicate the item you wish to receive results for by circling it in the Google
To shut down, click on Google Assistant, and change to "Pen Stylus."
Install apps
Download apps that are specifically designed to work with your Google Pixelbook Pen.
Click on "Settings" from the options
Within the "Device" section, locate and choose "Stylus."
Finally, select the option "Find more stylus apps" to explore additional compatible applications.
How To Take Notes With Google Pixel Pen
Here's a simple guide for taking notes with the Google Pixel pen:
After Installing a note-taking app like Google Keep or Squid.
Now go to the app and make notes.
Use your Pixel Pen to write or draw on the screen.
Then Organize your notes with folders or tags.
Now Sync and backup your notes for safety.
Edit and review your notes as needed.
Which Stylus To Choose For Google Pixel Tablet?
Best Pens For The Google Pixel Tablet: Choosing The Right One
Stylus has been around for quite a while. But now, there's a new and better standard they follow. This upgrade allows them to work with improved touch recognition and data transfer. Plus, they can charge wirelessly using NFC technology.
Does google pixel have a stylus? Google does not produce a dedicated stylus for the Pixel Tablet, so the crucial step is to find a third-party stylus that is compatible with it.
Regarding software compatibility, the Pixel Tablet can readily accept input from USI pens for drawing or apps, and they work well for general navigation on the tablet too. Many users find using a stylus preferable for their needs.
The Pixel tablet requires a stylus that meets the USI 2.0 standards. It does not support USI 1.0 since backward compatibility is not possible.
Given the need for USI 2.0 compatibility, there are two recommended options for a satisfying experience with the Pixel tablet:
Penoval USI 2 Stylus
Lenovo USI Pen 2
It's worth noting that most USI pens are designed to be somewhat universal, so you may not get a fully dedicated stylus experience when using them with the Pixel Tablet.
Stylus Pen For Google Pixel 6 Pro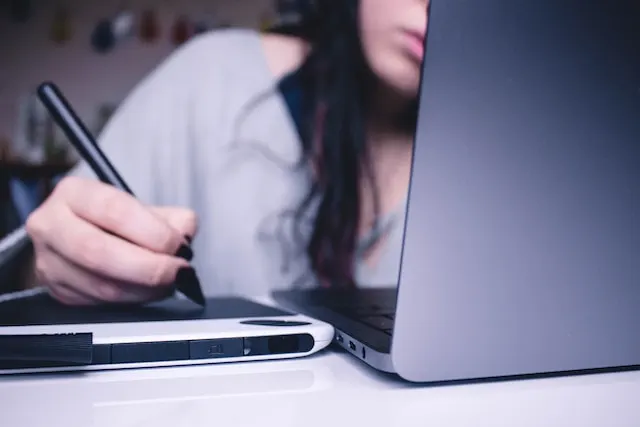 The AccuPoint Active is a pen for google pixel 6 Pro. It does not need to be paired before. Pixel 6 pro because it works by simply pressing the button, then it releases little stimulating pulses to link with your screen. This provides a more natural writing experience, allowing you to write with different levels of pressure and writing positions. However, you must know that It does not support grip refusal or forced Sensitivity.
Note: The AccuPoint Active stylus is also compatible with google pixel 7 pro
It comes with a precise fine tip, ideal for tasks such as signing, drawing, and editing.
Fast charging time.
Functions seamlessly right from the moment you start using it, with no delays or skips.
It does not have palm rejection functionality
Auto shut-off feature that activates every 30 minutes.
The active tip is relatively short and requires being held at a specific angle for optimal performance
FAQs
Does the Google pixel slate pen come with slate?
Unfortunately, the product description of the Google Pixel Slate on the official Google Store explicitly mentions that the Google pixelbook slate Pen is available for purchase separately.
So you have to buy your pixelbook pen separately.
Does the Google Pixel have a pen?
Yes, google pixel has a stylus pen but you have to buy it separately. If you want other USI 2.0 stylus pens that are compatible with Google devices then you can opt for the following:
Zagg Pro Stylus
Penoval USI 2.0
BoxWave Stylus Pen
Adonit Dash 4 Stylus
Can you use a pen with pixel 6?
Yes, as I have mentioned above you can use AccuPoint Active Stylus with your pixel 6. As it gives a more natural writing experience while allowing you to write with different levels of pressure and writing positions
Is there a pen for the Pixel 7 Pro?
Stylus for google pixel 7 pro
As I have mentioned earlier, the AccuPoint Active stylus is compatible with the Google Pixel 7 Pro and other series 7 such as the Google Pixelbook i7. Here is a list of other stylus options that are also compatible with the device:
1- XYZ Stylus Pen for Google Pixel 7 Pro
2- TechPro Stylus for Google Pixel 7 Pro
3- Precision Touch Stylus for Google Pixel 7 Pro
4- ProPoint Active Pen
5- InkMaster Stylus for Google Pixel 7 Pro
Please check the specifications and features of each stylus to find the one that best suits your needs and preferences for use with your Google Pixel 7 Pro.
Can you use a pen with pixel slate m3?
Yes, you can use USI 2.0, a Boxwave stylus pen with your Google pixel slate m3.
Can I use Google Pen on any Chromebook?
Google Pen for Chromebook
If your Chromebook includes a built-in stylus, then you can just press the button on the side of the device, and the stylus will pop out, ready for you to use. So you can utilize your Google pen for various tasks, such as taking notes and screenshots, drawing, or even using it as a laser pointer or magnifying glass.