When it comes to choosing the best television for your house, the selection might be difficult. Among the many options available, OLED TVs are known as the ultimate form of visual power, providing incredible image quality & realistic viewing experiences. Many brands provide the best buy OLED TVs at a reasonable price.
If you are thinking of getting an OLED TV for yourself then choosing the right one can become a very difficult task as there are hundreds of options to choose from. In this blog, we'll look into the world of OLED TVs, learning its technology, benefits, and are OLED TVs worth it.
What Is An OLED?
Organic chemicals produce light when a current of electricity flows through them using OLED technology. Pixels produce their own light, allowing fine brightness and contrast adjustment.
Unlike standard LED/LCDs that rely on light, OLED TVs create true blacks by shutting off each pixel completely, which leads to endless contrast ratios. In addition, there are several advantages that come with this technology. Some of them are as follows:
OLED TVs can create very vibrant and accurate colors. Due to high color accuracy, the picture quality appears vivid and very life-like.
OLED panels are ultra-thin and lightweight, which results in manufacturers creating television systems with a sleek design and less to no bezels.
Because OLED can switch off its pixels and does not require a backlight system. It can make very power efficient unlike traditional LCD or LED displays.
Pmoled, Amoled, And Qdoled, Which Is Better?
You can find different types of OLED technology in the market nowadays and these include PMOLED, AMOLED, and Quantum Dots OLED. PMOLED can control all its pixels individually, however, this tech is not as good as other types. Also, they have lower screen resolution and smaller displays.
On the other hand, you can find AMOLED in all sorts of things like smartphone screens and household TVs. This is because they are of much higher quality than others and have better resolution as well as a refresh rate. Last but not least, when you combine OLED with TV With Quantum Dot Technology, you get QDOLED. This technology provides wide colour range as well as brightness when compared to others. Also, they are very power efficient.
Generally, AMOLED screens are the best among them all as they give better picture quality, faster refresh rate as well as higher resolution. Not only that, each pixel has its own transistor so you can get deep blacks and wider viewing angles. And as for which is better in QLED vs OLED TVs, you can always rely on OLED for a better experience than QLED.
Drawbacks Of OLED TVs
When comparing the difference between LED and OLED TVs you will find multiple drawbacks. First of all, LCD or LED displays are much longer than OLED because they have organic components in them. Also, OLED displays loose brightness and colour range over time and on intense use. Secondly, LCDs are in the market for years now and OLED are still new therefore the availability and price difference are very large.
Thirdly, you can get bigger displays with LCD over OLED such as Samsung 110 inch 4K TV because of how new the OLED tech is. Even after these drawbacks, OLED is still the king in terms of experience, we now have to give time and see how much better it can get in upcoming years.
OLED TVs And Burn-in Issues
One of the very infamous issues with OLED screens is "BURN-IN". Due to this, you can see a picture on the display even if it is turned off. This occurs when the picture remains on the screen for a long period of time without being interrupted.
However, you can very easily avoid this issue by not keeping a still image for too long on your OLED TV. Also, this issue is not that common and can rarely happen. Being cautious should be enough to keep you safe.
Top And Best Buy OLED TVs In The Market
There are several top OLED Smart TVs on the market, and some of the best for their amazing image quality and modern features are as follows:
1- LG OLED Series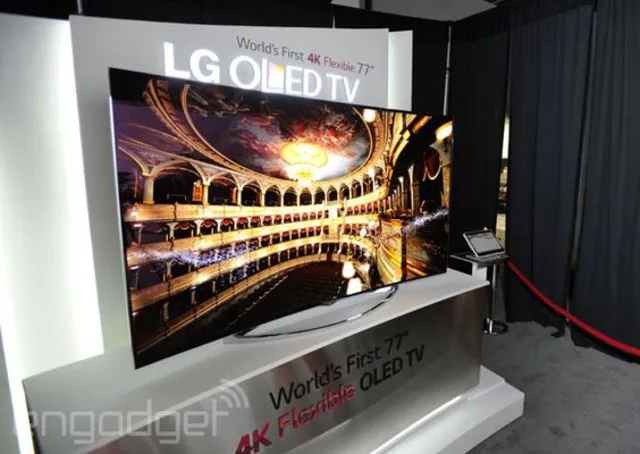 The very first on our list is LG OLED TVs as it offers one of the best watching experiences among its competition. Their build quality surpasses its rivals and it also has it custom processor to give a better picture and sound quality for the content. They have the latest versions of HDMI ports, for next-gen console support and faster screen refresh rate.
There are several options available in LG 55 inch Best Buy OLED TVs section, which is LG OLED55C1PUB from the C1 series. It considers the best LG 4K OLED TVs based on hundreds of reviews from OLED TVs reviews. It has all the features you get from an OLED TV including HDR support and Dolby Vision support.
If you are looking for curved OLED TVs then you can consider LG 55EC930T. It is a 55 inch model and features true black, vivid color tone, pixel dimming, and a two-channel speaker system.
Visit: What Does It Means By "Lg Tv Not Connecting To Wifi." Smart LG Tv Not Connecting To Wifi: Why?
2- Samsung OLED Series
Samsung was not the first in the OLED TV market and many do ask the question does Samsung make OLED TVs, the answer was no until the March of 2022. Their OLED TVs started shipping to a handful of customers in April and in August mass production started. Now they are among the biggest seller in the OLED market with S95C and S90C series among the newest.
Both the series are powered by Neural Quantum Processor and come in 77, 65, and 55 inches and offer 4K display resolution. They also have HRD10+ and Dolby Atmos support. Not only that, but you can also get them with up to 144 Hz of screen refresh rate for smoother quality.
Read: Samsung LED Smart Tv 55" – Reveiw
Should You Consider OLED Over Traditional LCD TVs?
If you want outstanding visuals and are ready to spend extra money, an OLED display could be a good option. However, if you want a more affordable choice with greater outside visibility and a longer lifespan, an LCD screen will good to fit. Nevertheless, you can also find the best buy OLED TVs, if that's what you want. It all comes down to what you value most in a display.
Some Frequently Asked Questions about Best Buy OLED TVs
Are OLED TVs worth buying?
OLED TVs are generally better display technology because of their superior colors and deep blacks. Despite this, the technology is still in development, so it is more expensive than LCD screens. If you have the budget to spare then you can definably go for an OLED display.
There are many questions related to OLED including who makes OLED TVs and which ones to choose. The simple answer is that there are not many brands mass producing OLED TVs and those who are making one are all very good. You have to assess your needs and make a decision based on that.
Is OLED TV Better Than 4K?
OLED TV and 4K are both different things, one describes the display tech and the other is the screen resolution. You can find 4K or Ultra HD resolution in almost all screen technology such as LCD, LED, or OLED.
Is LG OLED better than Sony OLED?
Both LG and Sony are among the oldest display manufacturers in the market and produces top-of-the-line screen. Determining which brand is the best depends on your preference and the models available. You can also consider factors like price, after-sale services, and availability.
Also, check: