According to Wikipedia, a smart TV is very different from conventional TV with loads of things presented inside. It could also be called as connected/ hybrid TV. Smart TV allows people to look for videos, movies or other content like that on it via Web.
Top Five Smart TVs of today are:-
Samsung UE46ES8000
Samsung is not known only for its magnificent Smartphone chain but also for producing a number of Smart TVs too. We are thankful to Samsung for giving us the best TV of today as well, it is the Samsung UE46ES8000.
Its 55-inch screen has surpassed all the best TV's of the world. It embodies countless features like an expanded online platform, 3D playback, revolutionary control systems and a stylish body which is both slim and delicate.
The control system consists of gesture control, touch-sensitive (pad) of remote control, voice control and so on. It is released in two screen sizes: 46-inch and 55-inch.
Price Tag:
$4562.09 (55''), $ 2570.5 (46'')
LG 42PM4700
LG proves its worth by presenting an excellent cinema screen in a glamorous super-slim design with new LG 42MP4700. 1024 x 786p resolution is best to run 3D movies on it. It involves 18 apps (pre-installed). These applications are different from one another ranging from movies to music, social media and so on. There is also an application store for you too to buy apps of your want.  It has a lot inside too like Skype, social media, video streaming and many more.
This magic TV works more like your computer by allowing you to get access to the internet and enjoy websites on a big screen. It is sleek and stylish in appearance as well as being affordable.
Price Tag
$ 773.99
Sony KDL-22EX553
It is a Sony's heart-throbbing smart TV with Sony's X-reality PRO video processing technology. This technology is responsible for producing super-clear, vivid pictures and video streaming. Having environment-friendly features and a simple connectivity, it enables the spectators to enjoy watching it. You can use your Smartphone to control it even.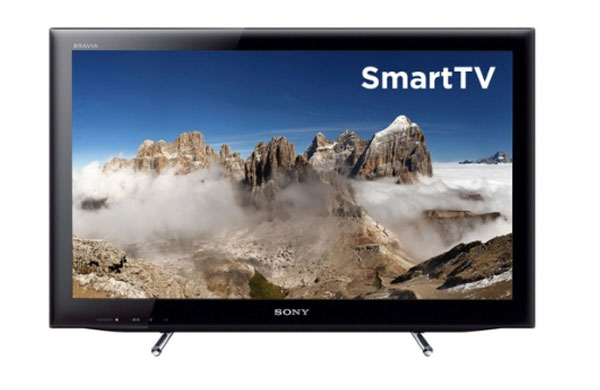 It is neither fatty nor buxom but a frameless, delicate TV with super-fun features like internet social media connectivity and interaction like you could turn on Youtube to have fun watching videos of your like on its gigantic but slender screen.
Price
$ 2109.113
Panasonic Viera TXp50x50B
With reasonable price tag and a remarkably higher picture quality than other models of its like, Panasonic Viera TXp50 x 50B rocks and dazzles all. Its video streaming is fantastic while its design is a little heavier than contemporary TVs with a thin bezel to give it a neater look.
It involves many features like memos, weather, calendar and all other sizzling contents. Its Apps, videos, pictures and Web are easy to use. One of its interesting feature is it directs you verbally, how to use certain things like menu, input option or volume control etc.
Price Tag
$ 899.99
LG 42LS5700
Well, at number five, LG retains its place again. It is one of the best smart TV with excellent browsing results. It is a fun-packed TV which has TV programming, gaming and internet facility and many more. It can accommodate one thousand and above applications in it.
This HDTV is more like a Smartphone allowing you to add more and more apps to it. In our opinion it is a great feature which helps in customizing your favorite songs, movies, games and programs in it. Its picture resolution 1080p is crisp and crystal clear.
Price Tag
$ 1099.99