"Selfie" officially made it into the dictionary a couple of years ago. People have long taken photos of themselves, but perhaps not with the frequency we do it today. It's quicker and easier than ever to snap a picture of yourself. And with social media, it's also much easier to share your selfie far and wide.
If you're a selfie connoisseur, you're probably always trying to make yours look better. Getting a good shot when all you have is your smartphone and the length of your arm to work with is tough. Luckily, there are lots of tools that can help you out.
Smartphones
A lot of people prefer to take selfies with their phones because they always have it with them. If you're a frequent selfie-taker, you might put a good front camera of your top priorities for your new phone. A phone with a camera at the back is great, but you won't be able to see the photo you're taking. Unfortunately, front-facing cameras aren't always as good as the ones on the back. You can find great phones with quality cameras, however. For example, there's the HTC Desire Eye. You might also like the Samsung Galaxy S6 or the LG G4. To make your selfies even better, download a selfie app.
Selfie-Ready Camera
If you want to take your selfies a bit more seriously, you might want to buy a camera. The excellent thing is that there are now cameras designed to help you take selfies. In particular, you might want to look at the Canon PowerShot series. For example, the Canon PowerShot G7 X has a preview screen that flips up. You can then look at the screen over the top of the camera while you snap a photo of yourself. You could also try the PowerShot N2 for a smaller and cheaper camera. For non-Canon cameras, try the Nikon J5, which also has a flip-up screen.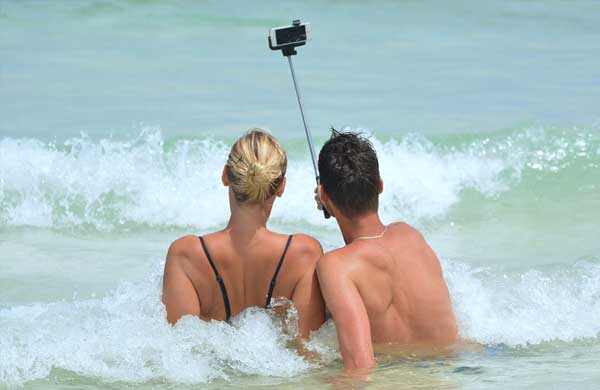 Picture from Pixabay
Selfie Sticks And Holders
Sometimes the thing stopping you from taking a good selfie is having to hold your phone or camera. Your arm is too short, you can't get the angle right, or you're struggling to keep a grip on your gadget. When this happens, you might have to resort to getting a tool out. People have strong opinions about selfie sticks, but they do make you more independent. There's no need to ask anyone else to take a photo for you, which is handy in public and especially when you're home alone. You can also buy tools to hold your phone or camera on a surface, from tripods to stands.
Read: Everything You Need To Know About The Best Sony Camera For Vlogging
Buttons And Timers
Setting a timer is another way to capture a photo, although it's not always possible. For example, you might be using your phone. You can download a timer app that will take the photo for you after a certain amount of time. Another option is to buy a selfie button that you put on your phone. Using a remote, such as a HISY Bluetooth device, you can activate your camera from a distance.
There are several options if you need a tool or gadget to help you take better selfies. Pick the ones that work best for you.