These cameras can combine the best DSLR features and tiny cameras into a single item. Because of this, Sony is becoming a popular choice among professional photographers and vloggers.
You can now record new vlog entries with any camera that can capture video. But, smooth recording is only possible with the most excellent vlogging cameras. Because of this, every serious vlogger needs to make an effective purchase.
Best Cameras of Sony For Vlogging
These are the top Sony cameras for vlogging, photography, and videography of sports and whatever you want to capture and record in 3d. If you are a professional vlogger, you'll need the right camera, and our buying guide will help you identify your best options.
Sony Alpha ZV-E10
Specifications
Type
Mirrorless
Resolution
24.2MP
Size and Weight
115.2 x 64.2 x 44.8mm, 343g
Connectivity
Bluetooth, and Wifi
LCD Screen
2.95-inch, touchscreen (Touch focus / Touch tracking / Touch shutter)
Image Sensor
APS-C type (23.5 x 15.6 mm), Exmor CMOS sensor
Recording(Still)
L: 6,000 x 4,000 (24 M), M: 4,240 x 2,832 (12 M), S: 3,008 x 2,000 (6.0 M)
Recording (Video)
XAVC S: MPEG-4 AVC/H.264
Memory
Multi slot for Memory Stick Duo / SD memory card
Focus
Exmor® CMOS sensor
Battery Life (Still Images)
Approx. 440 shots
Battery Life (Video)
Approx. 125 min
Power Supply
USB
Bluetooth
Yes
Headphone/ Mic
Yes
What's in the box
Rechargeable Battery NP-FW50, AC Adaptor, Shoulder strap, USB-A to USB-C cable (USB 2.0), Wind Screen, Wind Screen Adaptor, Body cap
Sony has transformed the ZV-1 into the Alpha ZV-E10, a mirrorless camera. As a result, you receive the software that is almost identical to that of the ZV-1 and 4kp30 recording quality. So, the autofocus performs admirably in both the eye-tracking and product presentation modes, just like with the ZV-1.
Features of Sony Alpha ZV-E10
It offers slow-motion and time-lapse modes, and you may record in vertical mode for simple transfer to your smartphone.
It features a larger size, a larger sensor, which makes it excellent in low light, and an adjustable lens, which are the key differences.
A 1.44x crop is added to the image due to the camera's electronic stability, which is not bad. When turned on, this shrinks the frame, which is bad if you're vlogging and want to give your audience a broad field of vision.
If you want a higher quality image in low light as well as a more potent Bokeh blurry background effect and a long-term plan to update to improved lenses with OIS. The stabilization on the ZV-1, however, makes it a better choice for you if you're searching for the best vlogging camera and don't care about any extras.
It is unsurprising that the ZV-E10 uses an Exmor CMOS sensor with a 24.2-million-pixel APS-C format because it focuses on tried and true technologies. Although the ZV-sensor E10 is undoubtedly the same more contemporary sensor featured in the current Sony A6000-series cameras, Sony has been employing 24-million-pixel APS-C sensors for ten years, since we first saw one in the NEX-7.
Pros and Cons of Sony Alpha ZV-E10
Excellent autofocus
Monitors with an add-on microphone and headphones
Screen with full articulation
Long-lasting battery
Slow in-camera charging for usage on the fly
The rolling shutter effect is evident
Panning while rolling the shutter
Image stabilization is not available
Sony ZV-1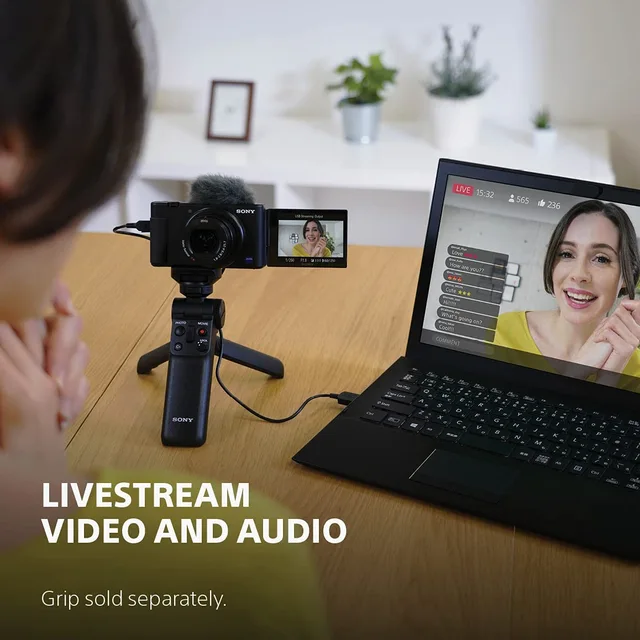 Specifications
Type
Compact
Resolution
20.1MP
Size and Weight
4-1/4″ x 2-3/8″ x 1-3/4″ (105.5 x 60.0 x 43.5 mm)
Connectivity
Wifi, and Bluetooth
Focal Lenght
20mm
Screen
Touch Panel, 7.5 cm (3.0 type) (4:3) / 921,600 dots / Xtra Fine / TFT LCD
Camera
Continuous Shooting Hi: approx. 24 fps, Continuous Shooting Mid: approx. 10 fps, Continuous Shooting Low: approx. 3.0 fps
Input and Output
Multi/Micro USB Terminal*15, High-Speed USB (USB2.0), Micro HDMI, Microphone jack (3.5-mm Stereo mini jack), Multi Interface Shoe
Power
DC 3.6 V (supplied battery)
Battery Life(Still Images)
Approx. 260/approx. 130 min., Monitor (when Auto Monitor off is set to 2 s): approx. 410/approx. 205 min
Battery Life(Video)
Approx. 45 min
The Sony ZV-1F is a camera made for beginning vloggers that makes it simple to record high-quality video.
The optional GP-VP2BT grip, which is better for users with larger hands, also increases stability.
The ZV-1F can effortlessly record and give the best results.
Although its 1-inch sensor works best in well-lit settings, it was tested. It did rather well with contrasting light levels for casual recordings, we found the audio quality to be adequate, but for professionally produced footage, you'll need an external camera mic. The fixed 20mm lens length may limit its usability for taking still photos, and seasoned filmmakers will desire something more powerful. The Sony ZV-1F, however, is a great option for new users transitioning from a smartphone Sony app because of its size and simplicity.
Features of Sony ZV-1
Sony has taken a few steps to make the ZV-1 a little more user-friendly for beginners, even though its camera menus are notorious for being nearly as user-friendly as just a book of hieroglyphics.
The two custom buttons on the camera now have two new default settings. The first of these is the Bokeh switch, which will immediately convert to a great extent to give your movie a blurred background
The second custom button, dubbed Product showcase, was created especially for YouTubers who focus on reviews and may be more useful.
Again, pressing this has no additional functionality beyond what is available in the options, but doing so immediately disables Face and Eye priority AF as well as SteadyShot stabilization, making a tripod essential in this mode. This implies when you place a product in front of the camera, the focus will be locked on that rather than on your face. This works rather well due to the ZV-1's focusing speed.
The ZV-1 is packed with functions, many of which are intended for experienced video shooters. As a result, it has a remarkable level of depth. There are many faster frame rates available, along with Sony's outstanding super slow-mo choices, which reach up to an astounding 960 frames per second. In the performance section, we'll discuss the quality loss in detail along with the stability and battery life of the ZV-1.
Pros and Cons of Sony ZV-1
Vlogging and video recording, family photos, and trip photography.
4K video recording
A screen with full articulation
Easily fits in a pocket
Specially made for vloggers, but also a competent stills camera
Cost-effective
Merely a few physical controls
A wider lens is required
Low battery life
Mini USB as opposed to USB-C
When using camera protectors, face detection is difficult.
The Bottom Line
Consideration of video quality will probably be at the top of your list, regardless of the kind of camera you choose whether it is a slinger camera or a normal camera. Additional camera features to look for include integrated Wi-Fi for uploading and sharing your vlogs while you're on the go, a completely flexible or tilting monitor to better define your face, and an integrated microphone jack to improve sound clarity.
For studio video, the Sony ZV-E10 is effective. However it struggles a little in low light, video quality is decent under more regulated lighting situations. You can customize the appearance of your film using the camera's many image profiles and recording profiles. For vloggers, videographers, and photographers seeking a small camera with a quick lens and excellent video and still photo quality, the ZV-1 is a wonderful alternative. Overall, the ZV-1 is something to consider whether you're a serious videographer or just need a simple camera for high-quality movies. Maintenance of the cameras after every year of use is so important.
Frequently Asked Question
Which Sony camera is best for vlogging?
Many Sony cameras are excellent for recording videos. The Sony ZV-E10 which provides 4k video and a variety of potent video-shooting options is one of our favorites.
Which camera is best for photography?
The Sony 7 IV is the most effective camera we have tried for shooting landscapes
Is the Sony vlogging camera worth it?
There are many types of cameras but Sony cameras are definitely worth the hype because they perform an amazing job. Vloging and photography with Sony cameras are so easy to use because they have so many features and these cameras are user-friendly.
Please follow and like us: