Are you looking for a laptop that can fulfill your needs and preferences? You should check out this amazing Lenovo Ideapad Flex 5, a 14-inch 2-in-1 laptop. This laptop will allow you to switch between tablet, tent, laptop, and other stand modes.
No matter whether you want to buy a laptop for work, play, creation, or relaxation, the Lenovo Ideapad Flex 5 14 AMD will cover everything for you. The Intel Core i7 12th Generation processor and Intel Iris Xe Graphics power it. The laptop will provide fast and comfortable gaming performance, streaming, multitasking, and more.
The Lenovo Ideapad Flex 5 is an affordable and versatile laptop that covers everything that you throw at it. So don't miss out on buying this amazing beast of a machine. Without revealing more, let's dive into its performance and features!
The laptop has a 2-in-1 design
Amazing performance and with a Core i7-1255U processor
Have an OLED touchscreen display screen
Heavy
Battery life is not good as compared to other 2-in-1 laptops
Don't have a Thunderbolt 4 port for sharing and transferring data faster.
Introduction
The Lenovo Ideapad Flex 5 is a great 2-in-1 laptop with great performance and amazing features. You can get an OLED touchscreen display, narrow bezels, and a 100% DCI-P3 color gamut on this laptop. Lenovo has 5.0 wireless Bluetooth technology to pair it with compatible devices like speakers, keyboards, headphones, and mouse.
The laptop has a fingerprint reader, a physical webcam privacy shutter, and a great digital pen, which adds convenience and security. It has 10 hours of battery life, which is productive and entertains you all day. This article will provide complete Lenovo Ideapad Flex 5 (14) reviews.
If you want a small, user-friendly device with a low learning curve and minimal setup, you must look at the Lenovo All In One Desktop.
Price Of Lenovo Ideapad Flex 5 And Where To Buy?
The laptop's price depends on its model, configuration, and seller. It has different prices on different platforms. If you buy it from the official Lenovo, then it will cost you $634.99. On Amazon, the laptop price starts at $329.00. So, it's up to you where you buy this laptop, and you can also find it in local shops near your residence.
If you are a gamer and want a gaming laptop, we recommend you mark the Lenovo Ideapad l340-15 in your book because it is a gaming machine.
Specifications
Price
$329.00
Computer Memory Size
4GB to 16GB
CPU Speed
1.00 GHZ TO 4.20 GHZ
Screen Size
14 inches
Display Technology
IPS, 250 nits, 45% NTSC
Hard Disk Size
256 GB SSD
Item Dimensions
12.66 x 8.56 x 0.82 inches
Item Weight
3.63 lbs.
Operating System
Windows 10
Processor Count
8
RAM Type
DDR4 SDRAM
Wireless Communication Standard
Wi-Fi 5 (802.11 ac)
Design And Build Quality
The laptop has decent design and build quality for the midrange. It has a stylish and simple Charcoal gray metal coating on the lid and a soft-touch plastic coating. If we talk about weight, it is portable and weighs 1.5 kg.
The Lenovo Ideapad Flex 5 includes a physical webcam cover, a digital pen for security, and a fingerprint reader. However, you have a Lenovo Ideapad Flex 5 pen in the digital box of the laptop.
Display
Now, heading towards the Lenovo Ideapad Flex 5 display, it has a 14-inch touchscreen and a 1920 x 1080 pixel resolution. The laptop uses IPS panel technology for wide viewing angles and has accurate colors. You can get the optional digital pen along with this laptop for a fresh way to click your inspirations on the go.
The Lenovo Flex 5 contains a brightness of 250 nits and a color gamut of 45% NTSC. In addition, you will get a narrow bezel on the four sides to give it a contemporary and stylish look.
Performance
The laptop's performance depends on the model and configuration you choose when buying it. So, this laptop contains an AMD Ryzen 4000 or Intel 10th Gen U-series CPU and integrated graphics.
In addition, this laptop has another option: the NVIDIA GeForce MX330 dedicated GPU. But unfortunately, it has only 4 GB to 16 GB of memory. The hard disk has a 1 TB SSD storage disk, which is perfect for an individual. But remember, this hard disk will be available only with the Intel Core i7 CPU.
The speed of the CPU will range from 1.00 GHz to 4.20 GHz and will have light and productive multitasking tasks. But if you demand high-quality applications and games, then it might start struggling.
If you want to know about the penalty of Lenovo laptops so that you have various options, then we have Lenovo Gaming laptops, which are the best in 2022.
Battery Life
If we talk about the battery life of this laptop, it is quite impressive and can last up to 12 hours after using video playback and web browsing. The Lenovo Ideapad has a quick charge boost, allowing you to use two 2-hour batteries within just 15 minutes of charging. The Lenovo Ideapad Flex 5 charger has 65 watts power output, enough to charge the laptop faster.
Also read: A Quick Guide On How To Increase Battery Life Of MacBook
Keyboard And Touchpad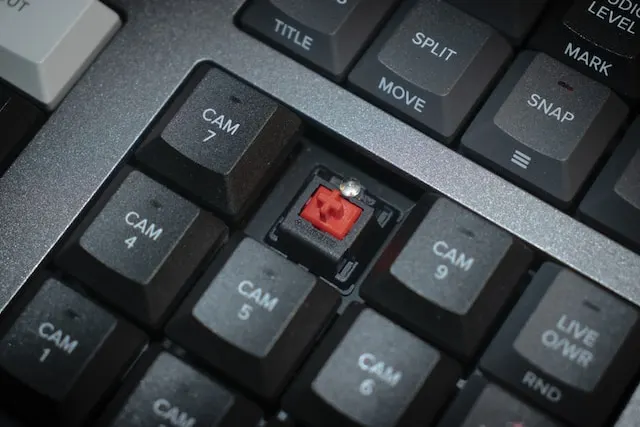 It has a responsive and comfortable keyboard and touchpad. The keyboard of this laptop contains a chiclet-style layout along with good-spaced keys and has a backlight option. This laptop has 1.3 mm of key travel, which is good for accurate and fast typing.
The touchpad is smooth and large, which supports the gestures of Windows 10. You can also use the fingerprint reader located in the right corner for biometric login. However, some laptop users reported that the Lenovo Ideapad Flex 5 keyboard not working.
This fault might be due to a faulty drive, a software conflict, or a hardware problem. So, our expert recommends updating the driver, opening the settings, troubleshooting the device, and reinstalling the driver. Contact the Lenovo US website service center if these methods don't fix the issue.
If you want more battery life, we recommend you buy a Lenovo Ideapad 330 15 laptop because it has decent battery life.
Ports And Connectivity
The Lenovo Ideapad Flex 5 has two USB 3.2 of generation Type-A ports (1) that support your device's always-on charging.  It contains only one USB 3.2 Generation Type C port (1), which is used to transfer data, deliver power, and display output.
Contains one 1.4b HDMI port, which supports 4K resolutions at 30 Hz to connect to the external monitor. It contains a 4-in-1 card reader that supports SDXC, SDHC, SD, and MMC cards for expanding the transfer of files and your storage.
Read: Mini HDMI To HDMI: Small Size With Big Quality
Talking about headphones/microphones, the laptop has a combo jack that supports a 3.5mm audio device for listening to music or making any call. The Lenovo Ideapad has wireless connectivity via Wi-Fi 6 (802.11) and Wi-Fi (802.11ac) for stable and fast internet access.
Audio
Lenovo has decent audio, which contains two 2W speakers located on the bottom edge of the laptop's chassis. The speakers of the laptop are powered by Dolby Audio software, which boosts the sound quality.
The speakers also provide you with clear and loud sounds, which probably need more bass and depth.
If you are a music lover, you might know about the Chrome Music Lab website, which has many songs for you and allows you to create your own.
A Guide To Set Up Your Lenovo Ideapad Flex 5
This is the first step in which you need to remove the Lenovo laptop from the packaging and then find the user manual and charger.
After that, you need to connect the charger to the power outlet and then plug the power outlet into the USB-C port. You can find the USB-C port on the left side of the laptop. There is a power button that is located on the right side; you need to turn it on. Finally, the laptop is turned on, and the logo of Lenovo appears on the screen in front of you.
Now, you need to connect the power adapter to a power outlet and plug that power outlet into the USB-C port, which is located on the left side. A power button is on the laptop's right side; you need to turn it on. The laptop will turn on, and the Lenovo logo will display on the screen of Lenovo.
After that, the laptop will ask you to choose the language and region you want and follow some instructions according to your preference.
After doing the basic things, you must sign in to the Microsoft account. If you don't have a Microsoft account, then you need to create it. After creating that account, you can use Office, Skype, OneDrive, etc. You can also use a digital pen and sign with local accounts instead of Microsoft.
Now, you need to customize your settings according to your preferences, like privacy and Cortana updates. You can also modify or change things like privacy and other basic things by opening the settings of the laptop.
It's done now. The Lenovo Ideapad Flex 5 is ready to use, and now you can explore multiple features and install any app you want. Adjust the brightness, keyboard backlight, and volume of the laptop.
It is a basic Lenovo Ideapad Flex 5 setting that a beginner must know when they purchase a laptop for the first time. You can also explore these settings according to your preferences later on.
Alternatives Of Lenovo Ideapad Flex 5
Lenovo Ideapad Flex 5 15ITL05
This is the first alternative that contains a 15.6-inch display with a 1920*1080 pixels resolution. Intel Core i5-1135G7 processor powers the laptop. It has memory storage of 8 GB RAM and 256 GB of SSD storage. The battery life of this laptop lasts up to 10 hours, and the weight of this laptop is 1.8 KG.
Lenovo Ideapad Flex 5-1570
The model contains a 15.6-inch display with 1920*1020 resolution pixels. It contains an Intel Core i7-8550U processor and has a memory size of 16 GB RAM and 512 SSD storage. The battery life of this laptop is 8 hours, and it contains 2 kg weight.
Lenovo Ideapad Flex 5 14ITL05
Our third alternative model contains a 14-inch display screen with a resolution of 1920*1080 pixels. An i3-1115G4 Intel Core processor powers Lenovo Ideapad Flex 5 14ITL05 and has a memory size of 4 GB and 128 SSD storage. The laptop's battery life is 9 hours, and its weight is 1.5 kg.
These are some of the models of the Lenovo Ideapad series. Still, you can also look at other models of Lenovo on the Internet, like the Lenovo Ideapad 720s-15 and Lenovo Ideapad 3.
Final Words
We are wrapping up our article now. Lenovo Ideapad Flex 5 is a laptop that can run multiple tasks and modes. It provides a sleek design, a great touch screen, and a smooth keyboard. The laptop has different options for memory storage, operating system, and processor.
If you are looking for a Lenovo Ideapad Flex 5 review and a Lenovo Ideapad Flex 5 Chromebook, you can get a lot of information and feedback.
Frequently Asked Questions
Is the Lenovo Ideapad Flex 5 worth it?
Yes, the laptop is good for people who want to purchase it for normal and office use. This laptop can store high GB of data because it offers a huge hard disk.
Is the Lenovo Ideapad Flex 5 touchscreen?
Yes, it has a 14-inch OLED touchscreen, which gives you a great look.
How long do Lenovo Flex 5 laptops last?
The battery of this laptop disappointed us because it lasted only 10 hours and 36 minutes in the battery rundown test.
Feature Image: rtings.com