Let's be honest here, alright?
Bulky cables are a MESS! They are too long and heavy for their own good, which also makes it difficult to carry them around. And, of course, it's pretty easy to stumble on them if you are someone who hates to be too conscious about their surroundings.
Thankfully, though, there's a choice that you can opt for if you are struggling with bulky stuff – a mini HDMI cable. As the name implies, these come in a small size yet tend to be highly efficient and effective in any scenario. And considering the size, it can be quite versatile too.
So, let's learn more about them.
What Is A Mini HDMI To HDMI Cable?
Despite having a compact size or shape, a mini HDMI to HDMI cable offers much more than you can ever imagine. But let's keep that talk for later.
Now, let's learn about what a Mini HDMI cable actually is.
So, it's basically a specialized cable or tool that can connect a device with a High-Definition Multimedia Interface (HDMI) port with a product that has a standard HDMI infrastructure.
As the name implies, a mini HDMI port is smaller than a regular connector. Therefore, it will be much easier for you to use with a portable device, such as a tablet, a smartphone, or maybe a camcorder. Also, due to its compact design, you can store it almost anywhere you want.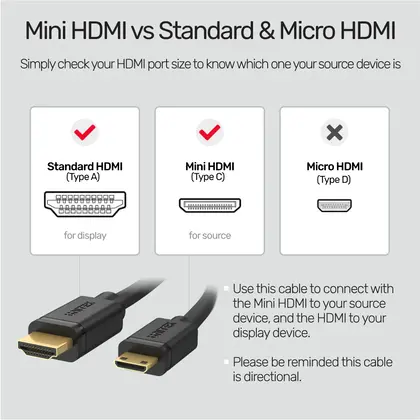 Talking about the construction of the product, the cable comes with a mini HDMI plug on one end and a standard one on the other. If you want to use it, you will have to insert the HDMI port on the device while connecting the standard plug to the larger display device, like a TV.
Related: How To Share Screen On FaceTime On Apple Devices (Mac, iPhone, And iPad)?
But why is a mini HDMI to HDMI cable used?
Well, to begin with, it can begin the transmission of a video and audio signal from the portable device to the larger display option. It also supports HD video resolution, including ultra HD (4K) and full HD (1080p). So, the fidelity and clarity you'll get with it is excellent!
How Does Mini HDMI Differ From Standard HDMI?
If you are not-so-tech-savvy, you might find only one difference between a mini HDMI and a standard one – the size. However, that's not true. There's a lot more to it.
Connector Type
Naturally, the connector of a mini HDMI cable is a little different than the standard one.
A conventional HDMI connector comes with 19 pins arranged in a rather rectangular shape. It also looks pretty big and heavy to the naked eye.
However, a mini HDMI cable is much more compact and lightweight in nature. Yes, the shape looks somewhat rectangular too. But it doesn't look as top-heavy as its counterpart.
The Size
The most noticeable difference between them, truth be told.
As mentioned before, the size of the mini HDMI is pretty small. Due to the compactness of the same, it can be used with a smaller device, such as a tablet or a smartphone.
Also, you can carry it almost anywhere you want. There's no need to worry about anything, as these also tend to be highly durable. So they won't get damaged or broken in any manner.
Usage
A mini HDMI port is usually used to connect a portable device to a larger audiovisual system. It enables you to transmit video and audio signals from the same and watch them on a bigger screen. This allows you to perform a larger scale of content sharing and media playback.
Conversely, a standard HDMI is used to connect various multimedia devices, such as TVs or gaming consoles, to each other.
Top Reasons To Use A Mini HDMI To HDMI Cable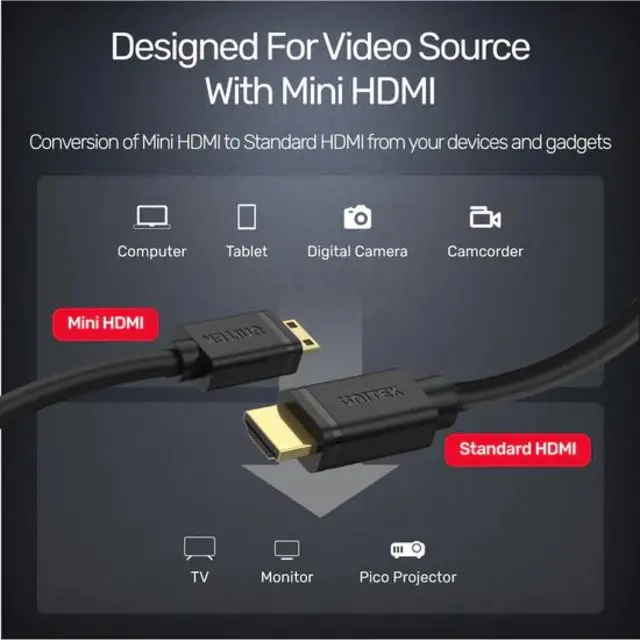 Most people choose a mini HDMI cable for a variety of reasons. Here are a few of them –
It can offer a portable connection to any and every device you are using.
By connecting to a larger audiovisual system, you'll get a better viewing experience.
Due to the seamless connection, both the video and audio will be highly defined.
The versatility of the system is quite excellent and top-notch.
You will be able to use it for collaboration and presentation.
Furthermore, having a mini HDMI cable can also make it easier for you to play games on the television – like most people do with their PlayStation.
What To Look For In A Quality Mini HDMI To HDMI Cable?
When it comes to buying an HDMI cable, the first thing you should keep an eye on is its build quality. It has to be well-constructed and feature a sturdy connector.
The signal quality, on the other hand, must be at least full HD (1080p). If possible, we would ask you to opt for an ultra-HD option (4K), as it will improve your experience even more.
Don't forget to check whether the product you are buying is compatible with your device before you buy it. You can find more about the same in the packaging of the product. Or you can ask the vendor about it too.
Finally, we would also ask you to keep an eye on the customer support and warranty period of the product. The latter should be of at least five years so that you can confidently use it.
Recommended Mini HDMI to HDMI Cables
In this section, we'll talk about a few cables that we have personally tried and tested for quite a long time. So, let's get started with it –
Belkin: Belkin offers a range of HDMI cables known for their durability and reliable signal transmission. They have options for different resolutions and lengths to suit various needs.
AmazonBasics: AmazonBasics is known for providing affordable yet reliable HDMI cables. Their cables are often praised for their solid construction and compatibility with various devices.
AudioQuest: AudioQuest is a brand recognized for its high-quality audio and video cables. They offer HDMI cables prioritizing signal integrity and providing exceptional picture and sound quality.
Monoprice: Monoprice offers a wide selection of HDMI cables at competitive prices. They are known for their affordability without compromising on performance and build quality.
Cable Matters: Cable Matters is a brand that provides affordable yet reliable HDMI cables. Their cables often receive positive reviews for compatibility, signal quality, and durability.
Conclusion
So, that will be all for this article. If you have any additional questions, please leave them in the comments section below. We will do everything we can to assist you.