If you're tired of listening to music on those boring old manual vehicle stereos, a touch screen radio for the car is the perfect solution. It has several functions, like playing music, making phone calls, watching movies, accessing maps, etc. We have provided an ultimate guide to listening devices for cars. In addition, a touchscreen provides the convenience of a smartphone while on the road. Here are some road safety tips for you.
While traveling, the majority of American drivers (52 percent) prefer to listen to the radio rather than their music (15 percent) or internet audio (12 percent), such as through a streaming service or online radio.
To help you make a good purchase, we have prepared a selection of the best five touch screen car radios for your consideration. Several key features, pros, and cons are shared by all of the 5 best touch screen radios shown here.
1. Pioneer AVH-2550NEX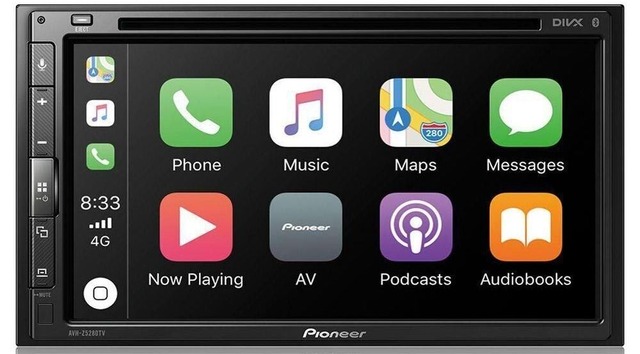 The Pioneer AVH-2550NEX is at the top of our list due to its unique features.
The display on this pioneer touchscreen radio is a huge 6.8 inches. Clear resistance touch indicates that the contact is sensitive, and less pressure is required to use the surface.
The receiver's top has a CD/DVD player that can play back high-quality video and is compatible with various music and video file types. These include MP3, WMA/WAV, MPEG 1/2/4, AVI/DVIX, and more.
The internal amplifier is powerful and has a high RMS. This device also has a built-in equalizer, which is a nice bonus. Natural, Vocal, Flat, Powerful, and Bass are the EQ settings you may play about, along with two user-defined modes.
It has an HD radio tuner already installed. You may choose from roughly 18 FM and 6 AM Presets.
Pros
Visible and touch-sensitive screen.
The hands-free feature is reliable.
Sound quality is superb, and you can use various applications, including Spotify and Pandora.
Cons
Apple CarPlay and Android Auto cannot use without a wired connection.
Tiny controls for the menu and loudness
2. Kenwood DMX7706S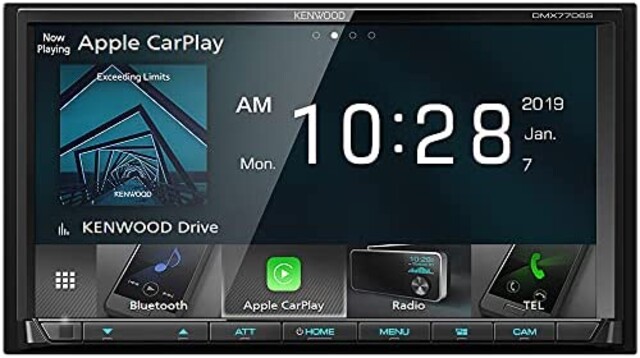 The Kenwood touchscreen radio is designed to provide high-quality sound.
The high-resolution audio it uses produces a much superior sound to that of a compact disc. The music you love will sound better than ever, thanks to advancements in audio technology. You can hear every nuance of the sound since all the frequencies are available to you.
The Kenwood DMX7706S supports various audio file types, allowing you to listen to your music regardless of where you happen.
The finest part of this device is how it can connect to your phone and use it as a remote for your infotainment system. The Kenwood DMX7706S has built-in Bluetooth, so you can safely listen to your favorite music applications while on the road.
It's useful for maintaining your automobile since it shows stats like the engine's efficiency, the air conditioner's settings, and the tires' pressure levels. It is a touchscreen radio with a backup camera and GPS.
Pros
You may pair multiple gadgets at once.
You may use your phone as a control device.
Now you may listen to your whole music collection in real-time.
It is compatible with a wide variety of music-playing applications.
For further protection, you can install a third camera at the back.
Cons
The CD player doesn't work.
You may need extra goods to make it work in your vehicle.
3. Podofo Double Din Touch Screen Radio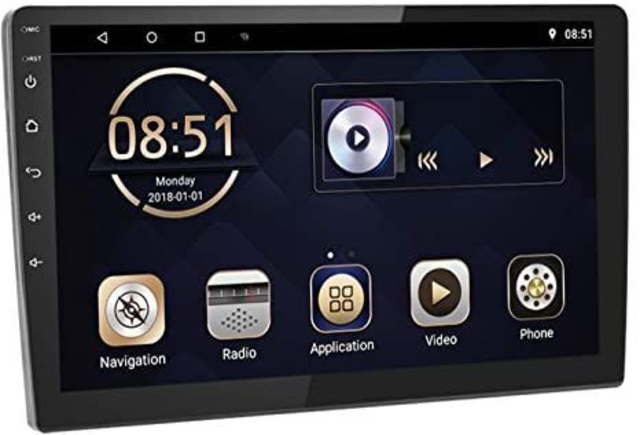 Podofo is yet another Android Auto head unit maker that offers several low-cost and entry-level options with practical features for usage in your vehicle.
The Podofo Android Auto head unit is a great bargain since it offers many features for the money. Like most Android Auto head units, this one features a 7-inch display with 1024 x 600. A reverse parking camera is included in the package and the display, expanding your vehicle's practicality.
This Android Auto head unit has the latest version of Android (9.1), so you can count on having access to most of the newest features.
It is a touchscreen radio with a backup camera.
Podofo now enables the newest Android applications, and with 2 GB of RAM and 32 GB of storage, you can easily install any software you want.
Pros
In the package, you'll find a good reverse parking camera.
High-Quality Ram And Storage
Latest Android release in terms of feature support
Cons
Poor construction quality.
Maintaining a mirror connection is a complicated operation.
4. Boss Audio-BV9356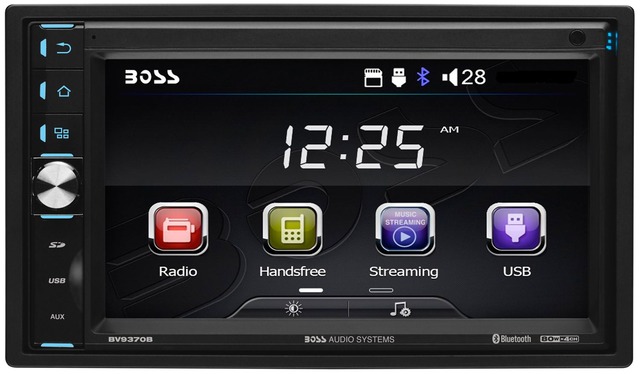 This boss touch screen radio comes with tonnes of great features. The following are a few of the more intriguing features:
The Auxiliary Input (AUX) lets you play music from a device other than a CD or radio, such as an MP3 player or a smartphone.
You can plug it into the AV Input to play music and video from a source other than your system's internal storage.
Integrated equalizers with a selection of predefined curves suit a wide range of musical genres.
The digital screen reproduces images in a car with stunning clarity and color.
Pros
It's equipped with a rearview mirror.
The installation of this twin DIN device couldn't be simpler.
This device accepts MicroSD cards and may be charged through a USB connection.
Cons
It lacks built-in Bluetooth connectivity.
No rear camera is supplied.
5. Sony XAV-AX8100
If you're looking for the peak of property investment, go no further than this Sony touch screen radio.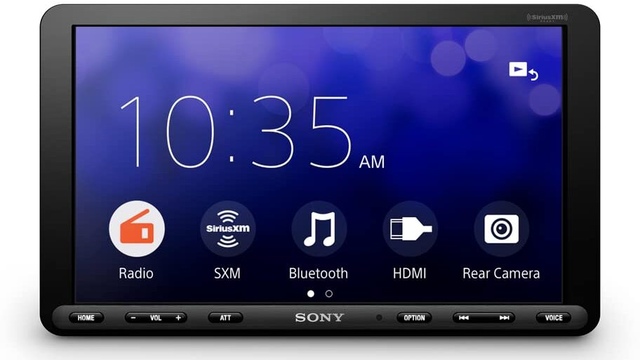 Not only does this device have a large 8.95″ touchscreen, but it also just requires a single DIN 2″ hole. Thanks to ingenious engineering, this huge gadget can be installed in many more cars than a standard 2-DIN unit.
A new HDMI input is included in the AX8100. You may play videos from ANY external media player by simply plugging them into the head unit.
The AX8100 has a maximum power output of 55 watts per channel and may be expanded with the help of its five 5V pre-outs.
The manufacturer installs a single backup camera in the device. For connected connections, there is a single USB connector on the device's back that also doubles as a 1.5a charging plug for your mobile device.
Pros
A single-DIN chassis facilitates installation in a wide variety of automobiles.
Big, bright display with no reflections
Abundant strength
The display is adaptable to almost any instrument panel.
Cons
There is just one USB port.
Perhaps there might be additional options for visually adapting the interface to the hues of different car interiors.
This chassis will not fit cars with standard 2-DIN or 1.5-DIN head unit mounting holes. Some adapter is going to be needed.
Conclusion
If you need a new automobile sound system, you may choose from a wide variety of excellent options. Since selecting the best touchscreen radio for a car may be difficult, we've included some of the best options up top. If you are a car lover, here are the fastest cars for under 30k that will impress you.
Each of these best touch screen radios has its features and specs. After considering their features, benefits, and drawbacks, you may choose a touchscreen radio that suits your needs.