WordPress security is important because of the current risk involved in any online website. The number of attackers is increasing daily; they are just searching for the opportunity to hack the systems. Therefore, securing a WordPress website is necessary to reduce and prevent any risks. Be it a small business or a large business, both are in an endangered situation as security breaches are never ending and just continuing.
In addition, online security is now a basic need of society, like other needs. People first check the security and safety of the website and then explore it. Hence, website developers love security; even ordinary people like us love security. The reason is that most of our work is now done online, so we need to be careful.
Not only us but our favorite mentor, google, also likes those websites that are safe and secure. Websites with high security are given higher rankings in Google search results. This makes every website developer run behind the safety and gain more customers.
Therefore, to protect the interest of website developers and the ordinary citizens of our country, we are here to serve you a dish full of security food items. The word press security checklists below will improve your security for the WordPress-developed website.
General Best Practices to Improve Website Security
These WordPress security best practices make your website hacker-proof and prevent all kinds of risks; as said, "Prevention is better than cure."
Remember to Update Your WordPress Version Regularly
It is noticed that almost 50% of the websites are running on the older WordPress version. Therefore, it is crucial to keep your WordPress version updated regularly because they reduce most of the security issues once you update the WordPress system timely.
To stay updated regularly, you need to keep an eye on the future update dates on the WordPress system. So that you may get all of the recent updates, with the WordPress system update, you must also update the themes and plugins installed on your WordPress website. When these two things go hand in hand, errors may reduce, and the website may work well.
Here is an illustration of how to check if any update is required in the WordPress system.
TIP– If you are updating WordPress updates, then make sure that you also have a backup for your website as sometimes it may happen that the older themes and plugins may not match with the new update of WordPress.
Related: Maximizing Your Website's Performance With Google Cloud Hosting
Always Use Secure WordPress Hosting
Your WordPress hosting services also play an essential role in providing better safety and security. Therefore, make sure that you are using good options related to WordPress hosting. Some of them to name are Bluehost and Siteground.
Many hosting service providers provide you with advanced services such as backup done on an automatic basis, automatic updates delivered and other security-based advanced configurations.
Some of the benefits of using good hosting services are –
They monitor the network and see that no suspicious activity occurs.
In addition, they ensure that your software, hardware, PHP version, etc. everything remains current. Therefore, there is no kind of risk.
In case of an accident, they already have a plan to manage the data and website, ideally during the crisis.
Installing an SSL certificate is necessary
SSL (Secure Socket Layer) is a certificate that ensures the traffic between the visitor's computer and your website remains safe and secure. It helps to prevent all kinds of unwanted interceptions that may cause harm to your security. Google also recommends those websites that are SSL secured and ranks them on a prior basis.
If the WordPress website URL begins with HTTPS, then the website is safe to use, and SSL certified. However, if the URL has only HTTP, it is unsafe to use, and google may provide a warning sign to the users.
To secure WordPress website, SSL cert is necessary. However, SSL is not a costly deal now and few low-priced SSL are worthy like cheap wildcard SSL for securing subdomains, multi domain SSL for multiple domains/subdomains, etc. You will have modern encryption standards with these SSL certs.
Install a security plugin
You need to audit and monitor the system to keep track of all kinds of activities in your
System. The security plugin may do the following tasks- :
Integrating monitoring
failed login attempts
Malware scanning, etc.
Therefore, we advise installing a WordPress security plugin to ensure your website has no security or functioning issues.
The name of the WordPress security plugin is the "Sucuri scanner". There are specific steps mentioned below that you may follow to install the security plugin successfully.
The first and foremost step is to go to the Sucuri menu in your WordPress admin.
Then, you must generate an API key allowing audit logging, email alerts, integrity checking, and other important features.
Next, go to the settings menu and click the hardening button in the various options. This hardening option will help you to lock every such factor that may provide a helping hand to the hackers. Other advanced options are also available in the hardening part to tighten your security.
One more thing that can be done is keeping the email alert option ON for specific crucial actions such as registering the new user, changing a plugin, etc.
Limit Login Attempts
You need to see that your credentials are not easy to guess. Because if they are easy to guess and identifiable, then it may lead to specific security issues. Therefore, set up the new WordPress administrator account with a new password and credentials. WordPress websites with easy-to-guess passwords have more chances of being attacked.
Backups
It is necessary to create a WordPress backup regularly so that there is no harm to your important data in case of any cyberattack.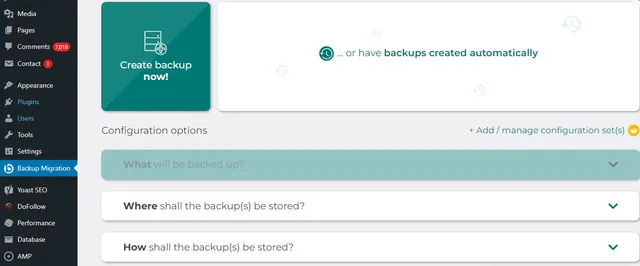 The steps to develop the WordPress backup file with all one WordPress migration are as follows -:
Installing and activating the plugin
On the menu panel given left side, go to the ALL-IN-ONE WP Migration
Then select the backups
Next is to create the backup
Once it is created, it shall reflect on the backups page
Go to All-in-one WP Migration and then export for downloading and storing the backup to storage.
Click on the export drop-down menu and select the file to create the backup.
Final words
As everything is going towards online mode in the present era, following these steps for WordPress website security becomes necessary. The most crucial steps are using an SSL certificate, updating the system, using strong credentials, installing security plugins, etc. Therefore, follow these tips to ensure your customers feel safe and secure with their online presence.
Please follow and like us: