Every gamer agrees that a high-quality best gaming chair with speakers and vibration capabilities is essential to any gaming setup.
I'm sorry couch gamers, but there's no denying that gaming is more enjoyable from the comfort of a good gaming chair. The addition of speakers and vibration to a gaming chair enhances the experience. In this article, I'll show you how to improve your gaming experience by recommending the top 6 best gaming chairs with speakers and vibration.
When used with a gaming console or PC, any of these seats will provide an amazing experience, complete with internal vibrations from the game's environment.
1. GTRACING Gaming Chair With Speakers.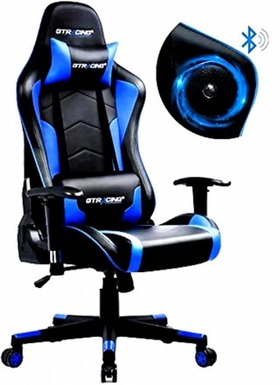 After much consideration, I wanted to go for Gtracing gaming chair because its speaker is good in sound and price. It is made of high-quality material, which is also easily adjustable and provides enough comfort for a long time. Thicker padding is preferable since it helps the cushion keep its structure after repeated uses.
2 Bluetooth speakers are equipped in this chair. Which uses Bluetooth to link to your phone or other electronic gadgets. These are very high standards for relaxing music listening. The chair reclines from 90 to 170 degrees, which is perfect for sleeping. Thanks to the heavy-duty metal frame, the chair has a very high standard in maintaining its stability at all times.
Key features:
Wide Applications
High-Quality Material
Multi-Function
Ergonomic Design
Music Gaming Chair
Pros
A seat that can recline up to 170 degrees and has a sturdy back
Adjustable-height external pillows that are both comfortable and practical
Pivoting, three-dimensional armrests
The cushioned seat is made of soft memory foam.
Cons:
The seat width and depth are inadequate for those of greater stature.
Creaking sound
2. YOUTHUP Gaming Chair with Speakers and RGB Lights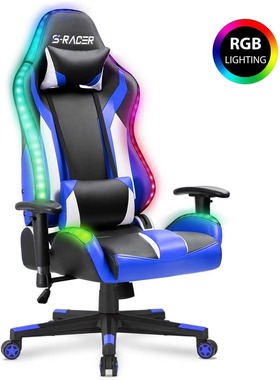 I chose this chair because it is the best value, has surround lighting, and is furnished in leather. Although its price is slightly high, it is attractive with RGB lights. LED lights are installed to enjoy a real game. Lights run on the back and sides of the seat, connected to a computer, power bank, or USB. I was very happy to know that the lights and various features can be controlled with the help of the remote.
In addition, it has 2 built-in Bluetooth speakers with solid bass. The chair's speakers are just as high quality as the ones we've already talked about. It is worth noting that it can choose different types of sounds. Comfort is key with the fine material and its thin cushion that lasts for a long time and stays in place. It reclines function and takes it up to 180 degrees from 170 degrees.
Key features:
LED Lights and Speaker
Easy to Assemble
Perfect Gaming Experience
Maximum Weight is 330 lbs
Ergonomic Gaming Chair
Pros
Everything you need to put together is included in the box.
Add more Bluetooth speakers for a more immersive listening experience.
All owing to the three-dimensional foam makes for a cozy seat.
There are a variety of colors available.
Support cushions for the neck and lower back are provided.
Cons
Because of the need to constantly recharge through USB, your freedom of movement is severely limited.
The software does not provide any kind of instructions about how to use it.
Manufacturer's poor support services
3. X Rocker Pro Series H3 Gaming Chair – Premium Pick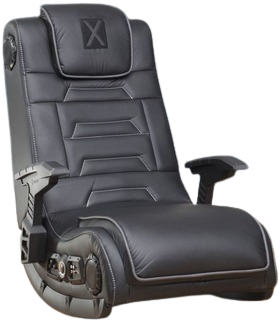 X Rocker gaming chair is a premier chair. The purpose of going towards this chair is its sound system which is different from other chairs and well made. The x rocker is connected to 4 speakers, 2 on top of the headset and 2 on the seat. The subwoofer on the back of the seat also makes it more enjoyable. In terms of sound, this chair sounds very good thanks to the 4 speakers. Full immersion in games, movies, or music x rip gives you high-quality sound.
This Pro series includes good speakers and a vibration mode that adjusts to the sound, makes the sound attractive, and feels good in the body. You can spend all day on this chair listening to music with incredible bass. Its material is very nice and comfortable to touch, making you feel very calm. And with many features, it is a foldable design that is very clean and safe.
Key features:
All-purpose gaming chair
Complete media experience
Additional vibration motors
Connects with multiple chairs
Pros
A benefit is a built-in stereo. Armrests that fold and a built-in headrest. Connects to a standard five-spoke wheel hub
Cons
The armrests are neither padded or adjustable.
4. GTRACING Gaming Chair with Footrest – Best with Footrest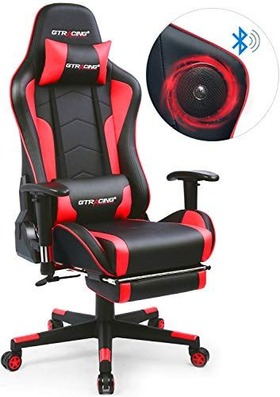 I have decided to get a gaming chair with a very popular footrest. The footrest of this chair is excellent. It becomes like a slide whenever you want to rest. It makes rest very calm and pleasant. You will feel great whenever you use it as a backup whenever you feel the need. This chair provides great sound speakers when connected with Bluetooth. Which produces excellent bass and surround sound, even at high levels. The sound quality remains very good when the volume is turned up.
The chair is ergonomic, including a lamb cushion and headrest. You may modify it to improve your sitting comfort. The chair offers a full 180 degrees of reclining motion. This seat is perfect in every respect. You get good sound speakers and good quality cushions in this chair with a footrest. It has many features, one of them is that this chair supports 350 pounds of weight, which is very important to me.
Key features:
Perfect for Gaming
Dimensions: 21.26″(W) x 20.47″(L) x 48.8″-52″(H)
Maximum weight capacity: 350 pounds
Ergonomic Design
Multi-Function
High-Quality Material
Pros
Includes a headrest and a lumbar pillow
Extra-Long Footrest
A maximum weight limit of 350 pounds is allowed.
Cons
5. GTRACING Recliner Chair with Speakers – Best Recliner with Massage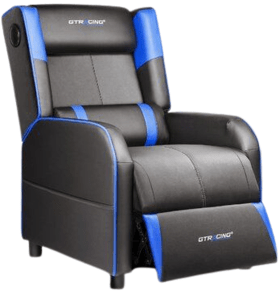 I have decided to choose a gaming chair with speakers and vibration and also a massage function. Regarding gaming chairs, this chair brand is the top brand that makes gaming chairs with speakers and vibrations very comfortable and affordable. Like other gaming chairs, it also has good-quality sound speakers installed. I also found a massage function with stereo sound in this gaming chair. You can spend a lot of time relaxing with it and enjoying movies and music. The speakers are also connected with the help of Bluetooth, as seen in other gaming chairs.
The USB-operated vibration motor in this gaming chair allows for easy customization of your seat's vibration intensity. You can activate this vibration through a computer, power bank, or power switch. This chair is also very popular as ergonomic. Every aspect of your body from your head to your foot is supported. This is the best if you are looking for a gaming chair with good sound and massage in various functions.
Key features:
Unique Function
Recliner with Massage
High-Quality Music
Pros
Highly relaxing
Durable
A wireless network
High-Quality Components
Exceptional scalability components
Cons
6. X Rocker Gaming Chair With Speakers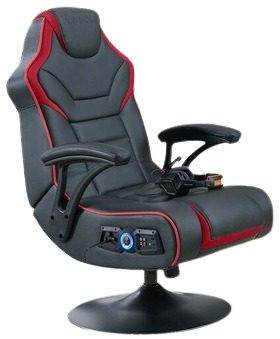 People consider different things when choosing a comfortable chair. Some look for flexibility, and those want premium comfort. Both are included in the X Rocker Pro H3 chair. gaming chair with speakers and vibration is one of the few seats worth thinking about. While considering nothing else than the gaming seats on the market. It has some features that are worth considering when you are looking for the best gaming console.
X Rocker Pro H3 is an audio gaming chair with a great sound system. It easily integrates with the gaming system. The chair provides excellent back support and folds compactly for storage by collapsing to the left of its center. It has a flexible headrest and armrest. X Rocker Pro H3 has thick padding, making it comfortable to sit on. It can swing, and you can easily move it back and forth.
Key features:
4 front-firing stereo speakers
System for modulating sound pressure levels
Subwoofers that pump out serious bass and have ports
Vibration motors
Integrated with a user interface
Pros
Comfortable
Application of AFM Technology
A wireless network
Integrated side-mounted control panel
Compatible with various X Rocker seating options
Cons
Not Bluetooth compatible.
Without the ability to modify the armrests
Conclusion
These are a few of the top gaming chairs with speakers and vibration in this post. When searching for the finest speakers for gaming chairs, make sure they have a high-quality sound system and several connection options. However, you should consider whether or not the gaming chair's design is suitable for your demands and whether or not it has good adjustment options to meet those needs. If you find our suggestions and this manual helpful, thank you. Remember to express gratitude by leaving a comment if you like it.
Please follow and like us: