Smartphones and social networks have allowed users to share images and videos almost everywhere they travel. Digital cameras make it possible for anyone, even novice photographers, to get a fantastic shot. To share those images, the photographer needs to transfer them to a computer and share them with others. If they're not connected to computers, sharing photos could create difficulties. Eye-Fi is a new technology that makes sharing pictures on the go much easier through WiFi to transfer images from digital cameras while on the move.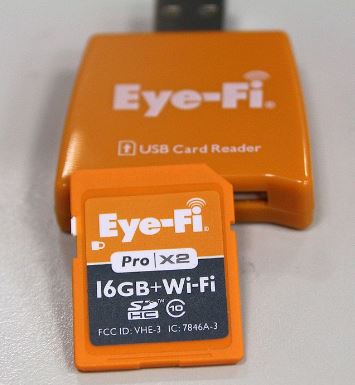 What Is Eye-Fi?
The Eye-Fi memory card is an electronic memory card that is wireless and the only one available on the market. It operates the same way as the standard SDHC; however, it uses built-in WiFi to transfer photos, video, images, and other files to your personal computer. It is also able to transfer multimedia files to handheld devices like iPhones. In reality, Eye-Fi memory cards also provide you with endless storage space.
If you enable infinite memory mode, it will automatically create space at a certain threshold after it has received confirmation that media was successfully delivered to the destination. It means you can capture many images, upload them using the WiFi connection, and let the card erase them to make room for new ones.
It only takes a few seconds, and then you can start taking more photos with Eye-Fi's new camera. Eye-Fi is created for you in the memory card, and you can choose what images and videos will be shared when you set Eye-Fi on your PC before inserting the card into your camera.
How Does Wifi SD Card Perform?
If you purchase an Eye-Fi card, it's ready to be installed by connecting it to the USB reader on your computer. Then, you'll need to install the software, which will allow users to connect to the card through WiFi. It is possible to configure at least 32 networks that you can connect to with your EyeFi card.
Since you won't be able to join any network at a moment's notice, it is important to ensure you know your SSID and password for the network you wish to link. Connect them all, and then your card can communicate through them once you are in range.
Once you've set up your networks, you'll be able to create a network where you'd like Eye-Fi cards to send multimedia. You can make folders on your computer or choose social media sites to upload your images and videos. The privacy settings you can set on these websites will determine how photos and videos will be shared after they have been uploaded using Eye-Fi. Eye-Fi can transmit your images to your desktop or notebook if your computer is up and connected to the internet. You can also share pictures and videos via iPhones, Android phones, and tablets.
When you purchase an EyeFi memory card, you will benefit from a free feature known as Eye-Fi View. Eye-Fi View lets you connect to a mobile site where videos and photos from the past seven days are saved. You may sign in to share pictures and videos while you're on the go if you have an internet connection. You can also send e-mails to your family, friends, colleagues, and other hyperlinks in your Eye-Fi View album.
Eye-Fi Itouch
Eye-Fi View is available on the iPhone, iPod, and Android phones, and the application can be downloaded to your mobile phone free of charge. So long as you're using an Eye-Fi memory stick and the EyeFi View feature, you will be able to use the application to browse your photos while on the move. It will allow you to show anyone you like photos you've taken using your Eye-Fi memory cards.
Eye-Fi Wifi SD Card Premium
In addition to the cost of $4.99 per month or $49.99 for the calendar year, users can buy Eye-Fi Premium. Eye-Fi Premium will store your multimedia the same way as Eye-Fi View, but it keeps them permanently stored. You may share all of your photos and videos from any location. If you maintain your subscription, you'll be able to access your storage space. If you don't, you'll be relying on a seven-day time frame to share your multimedia via the Eye-Fi View service.
Eye-Fi cards can be found at the majority of major electronic retail shops. Online shopping is another option for getting them. Before purchasing, it is crucial to confirm that the camera you plan to buy is compatible with the Eye-Fi technology. You can check this on Eye-Fi's website. Eye-Fi has created an inventory of manufacturers of digital cameras compatible with this memory card. Check that your digital camera is compatible before making the purchase.
As you will only require the memory card to start, it is easy to purchase the card, download the program on your computer, and start using it on your digital camera the next day. Based on the videos and photos you upload, buying a certain kind of Eye-Fi card is possible. Whatever card you choose, Eye-Fi is a breeze to begin after you have purchased your memory card.
The Final Word: Do You Purchase an Eye-Fi Wifi SD Card?
If you're the kind of photographer, who runs out of space on a memory card when on vacation, then the Eye-Fi memory cards are for you. For those looking to share images and videos with the world in a flash, the card can help you do that without much effort. The Eye-Fi memory cards let users take unlimited pictures if they're connected to WiFi.