Ducky is a well-known brand in the mechanical keyboard community, known for their high-quality build and customizable features. Ducky keyboards are designed for typing and gaming enthusiasts who want a keyboard that is both durable and customizable to their specific needs.
Features Of Ducky Keyboards
One of the standout features of Ducky keyboards is their use of Cherry MX mechanical switches. These switches are the best in the keyboard industry and the user feedback is good. Ducky keyboards are also very durable, with a lifespan of up to 50 million key presses. This means that a Ducky keyboard can function for years, even with very heavy use.
Customizable Lighting
Another feature that sets Ducky keyboards apart is their customizable lighting. Many models feature customizable RGB backlighting, which allows users to change the color and brightness of the keyboard's keys to match their preferences. This can be done through software, which is easy to use and allows for a wide range of customization options.
In addition to their customizable lighting, Ducky keyboards also offer a range of other customizable features. These include the ability to program macros, remap keys, and change the layout of the keyboard to match a user's specific needs. This feature is ideal for gamers and power users who want a keyboard with specific needs.
Here are my top 3 picks from Ducky Keyboards which are value for money.
Ducky Keyboard One 2 Mini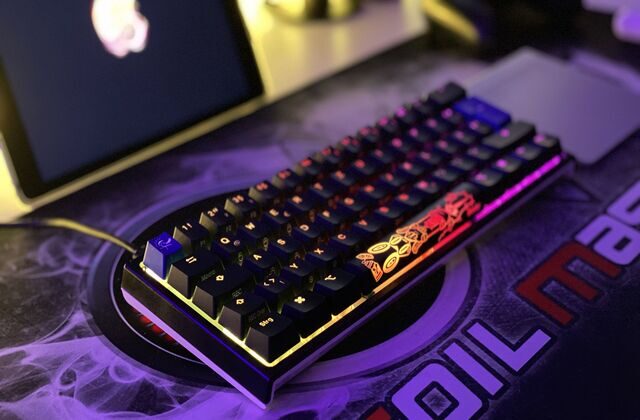 One of the most popular models of the Ducky keyboard is the Ducky One 2 Mini. Ducky One 2 Mini is a compact 60% keyboard, which means it does not have a numpad or soft keys. It is for gamers and typists who want a more compact, portable keyboard. Despite its small size, it still packs every feature, including Cherry MX switches, customizable RGB lighting, and full programming capabilities.
Features Of Ducky Keyboard One 2 Mini
The Ducky One 2 Mini RGB is a 60% gaming keyboard that offers a unique blend of style, reliability, and user customization. Some of the features of this keyboard include:
RGB backlighting with 10 customizable presets
Double Shot PBT keycaps that are durable and wear-resistant
Cherry MX mechanical switches for precision and reliability
On-the-fly macro and lighting recording
USB Type-C connection for fast and secure connection
6-key rollover and anti-ghosting
Durable and sleek aluminum construction
The Ducky one 2 mini is extremely compact, making it perfect for a small workspace.
With its optical switches, this keyboard is incredibly responsive and won't fail you when it comes to typing speed.
With its mechanical switches, the Ducky One 2 mini can be fully customized with different keycaps, switches, and even its LED backlight.
This keyboard is extremely durable due to its high-end construction materials and its solid build.
Compared to other mechanical keyboards, the Ducky One 2 mini is surprisingly affordable and is a great choice for those on a budget.
Limited to 60 percent size keyboard.
Not backlit.
Limited switch options.
No dedicated media keys or macro keys.
No software support.
Ducky One 2 TKL
Another popular Ducky keyboard is the Ducky One 2 TKL. This keyboard is a tenkeyless model, meaning it does not have a numeric keypad, but it still has a function row. It is a great option for those who want a more standard layout without the numeric keypad. Like the One 2 Mini, it also features Cherry MX switches, customizable RGB lighting, and full programming capabilities.
Features Of Ducky One 2 TKL
1. High-Quality Design
The Ducky One 2 TKL features a sleek minimalistic design with a high-quality finish. It has a two-tone color bezel and a immovable USB Type-C cable.
2. Compact And Portable
The TKL design allows the keyboard to be much more compact and portable than traditional full-sized keyboards, making it perfect for gamers on the go.
3. Fully Programmable
The Ducky One 2 TKL features fully programmable keys, allowing for complete customization of macros and key binds.
4. RGB Lighting
The keyboard features RGB backlighting, with 16.8 million color options and multiple lighting modes.
5. Durable Construction
The keyboard features a double-shot PBT keycap construction, ensuring that it will stand up to wear and tear.
Compact and ergonomic design
Full RGB lighting
Durable and reliable
Detachable USB-C cable
Although the Ducky One 2 TKL comes with RGB backlighting, it only has three lighting zones and limited customization options
The Ducky One 2 TKL is not compatible with Mac systems.
Ducky Mecha Mini
The Ducky mecha mini is a revolution in mechanical keyboards. This keyboard is perfect for those who prefer a smaller form factor. The board is built with a durable aluminum frame and comes with a variety of switch and color options, allowing you to customize it to your exact specifications.
Visit: Bastron Glass Keyboard : A Complete Review
It's RGB lighting is vivid and bright, while the backlighting is adjustable to fit whatever mood you're in. It also doesn't have any bezels, which means that you can take this keyboard anywhere without being anxious about any marks or harm. The Ducky mecha mini is a great choice for any avid gamer or typist, offering a stylish and reliable solution for a mechanical keyboard.
Features Of Mecha Mini
1. Compact Size
The Ducky mecha mini is a compact mechanical keyboard that takes up very little desk space.
2. Cherry MX Switches
The keyboard comes with Cherry MX switches that make typing feel easy and reactive.
3. RGB Backlighting
The keyboard features full RGB backlighting with multiple lighting modes and effects.
4. N-key Rollover
The keyboard also offers an N-key rollover for accuracy and precision when typing.
5. Aluminum Alloy Frame
The keyboard is made of an aluminum alloy frame that is durable and well built.
6. USB-C Connectivity
The keyboard features USB-C connectivity for quick and easy setup and use.
The Ducky mecha will fit perfectly in any setup, no matter how cramped the desk space may be.
The mecha mini is constructed with a strong metal frame so it can withstand repeated use and travel without breaking.
The customizable RGB lighting allows you to create your own personalized gaming atmosphere.
The mecha mini is hot-swappable, meaning that you can switch out the switches without any technical knowledge.
The mecha mini is easy to use, with no complex features or settings.
The Ducky Mecha is quite small and may not be suitable for gamers who need more space for their hands.
The Ducky Mecha Mini is very loud, so it may not be suitable for offices or quiet environments.
The Ducky Mecha Mini is not compatible with Linux. So if you are a Linux user, you may want to look for a different keyboard.
Conclusion
In conclusion, Ducky keyboards are an excellent choice for anyone looking for a high-quality, customizable mechanical keyboard. With Cherry MX switches, customizable lighting, and a wide range of other customizable features, they are perfect for gamers and power users. Their durable construction and high-quality keycaps also make them an excellent investment that will last for years.
Ducky keyboards are also known for their high-quality build. Many models feature a durable aluminum frame that gives the keyboard a premium feel. The keycaps are also of high quality, often made of ABS plastic or PBT plastic, which is more durable and resistant to wear and tear.
FAQs
Where Can I Buy Every Ducky Keyboard?
Ducky keyboards can be bought on their official website, as well as through retailers such as Amazon, Newegg, Best Buy, and many more.
Are Ducky Keyboards Good?
Yes, ducky keyboards are generally considered to be good quality. They are well-built and have a variety of features that make them an attractive choice for gamers and typists.
Is Razer Better Than Ducky keyboard?
The choice of a keyboard will depend on individual preferences. Razer and Ducky are both high-quality gaming keyboards that offer great durability and performance. Eventually, the best choice will depend on what features and functions user demands in a keyboard.
Is Ducky A Chinese Brand?
No, Ducky is a Taiwanese mechanical keyboard brand.
Also read: The Best HP Laptop Docking Station : Is It Right For You?