The best gaming gear combines cutting-edge technology with an eye-catching design. A white gaming keyboard is a great option if your desk and other components are white. If there's one accessory that deserves to look great on your desk, it's the keyboard.
While keyboards with darker color schemes may have been the norm in the past, white keyboards have recently emerged as a serious contender. Here are the 5 best white gaming keyboards of 2022, guaranteed to make your gaming rig stand out against the gloomy backdrop.
1. Corsair K70 RGB MK.2 SE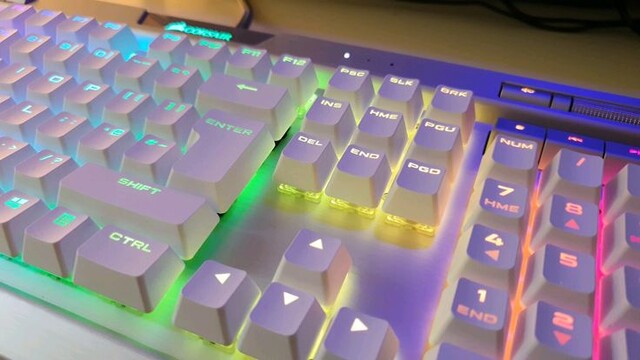 First, let's look at the greatest of the best. Even among Corsair's best keyboards, the Corsair K70 RGB MK.2 SE is the undisputed champion.
The K70's layout design is fantastic. A USB pass-through connector makes it simple to connect peripherals like headphones or a mouse to a device with only a single USB port.
With in-game access to media playback and volume management, you won't ever have to sacrifice gameplay for convenience. Using Windows Key Lock, you may safeguard your enjoyment against interruptions (including your own).
The somewhat higher price of the K70 is understandable when you consider how well it operates, how attractive it is, and how well-made it is. The K70 is unrivaled as the top-notch white gaming keyboard on the market. In contrast, you can try the Bastorn glass keyboard. It is the best and most transparent that will suit each environment.
Pros
Elegant white design.
Playing responsiveness is over the roof.
Exceptional build quality
User-friendly software
Media-specific control buttons
Cons
Expenses at the highest level
2. Alienware AW510K Lunar Light
If you have an enormous budget and are an Alienware fan, then the Alienware AW510k is an excellent choice. Our focus will be on the Lunar Light version in particular.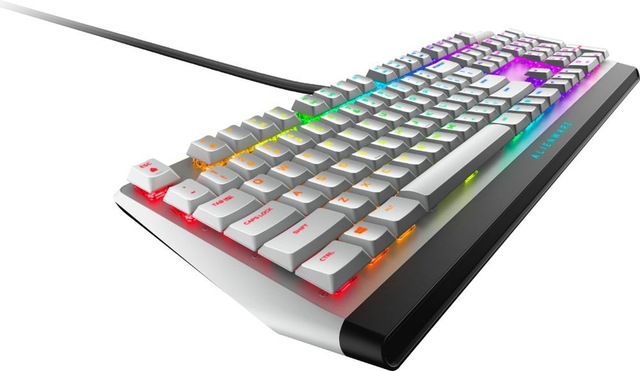 This sleek, low-profile keyboard proudly displays the Alienware emblem without sacrificing any of the comfort or aesthetic appeal. This keyboard's aluminum alloy frame and ABS plastic shell make it stylish and long-lasting. You can try a glass keyboard if you want a more stylish keyboard.
This led white gaming keyboard's discreet, floating button design and fully configurable RGB illumination make it hard to take your eyes off the screen as you play.
This is the best white gaming keyboard as with the rest of the Alienware range. It's quiet and understated enough to be a reliable companion no matter what you're doing: gaming or making money. The AW510k is a top-tier white keyboard because of its adaptability, high quality, and attractive, low-profile design.
Pros
Playing responsiveness is over the roof.
Easily adaptable to the demands of the type
Slim and compact
Attractive Appearance
Software that is easy to use
Strong, top-notch construction that will last a long time
In-Key RGB Illumination
Cons
Expensive
The absence of a palm rest
3. White Mercury Razer Huntsman
Razer's first challenger is formidable, and it's arriving quickly. Quick and responsive, this keyboard is ideal for gamers who seek a high-quality accessory that will make their skills audible. The white gaming keyboard razer is an expensive yet powerful full-size gaming keyboard.
While it's perfect for fast-paced video gameplay, the keyboard's clicky and responsive feel may enough for casual use. The Huntsman may be too clicky for gaming, but it'll fulfill your need if you like the sound.
The Huntsman, in general, is a fantastic choice for a white gaming keyboard. The size and comfort might be better, but the keys are great for gaming and seem quite sturdy. The technology in these tiny optical switches ensures you pinpoint accuracy with every click.
If you just use your keyboard for gaming, we believe this is the best choice. A hundred million click guarantee and lightning-fast response time make up for the premium tag.
Pros
Exceptional build quality
Lovely and white-looking
Rapid-fire toggles
100 Million click lifespan
Gamers will find a plethora of useful features
Cons
Expensive
No specialized media controls
4. Cooler Master SK650 White Limited Edition
You don't have a numeric keypad with RGB illumination, do you? Don't worry; I've got a wide variety of options still available to you. Among them is the Cooler Master SK650 White Limited Edition, a beautiful piece of equipment with a brushed aluminum silver finish.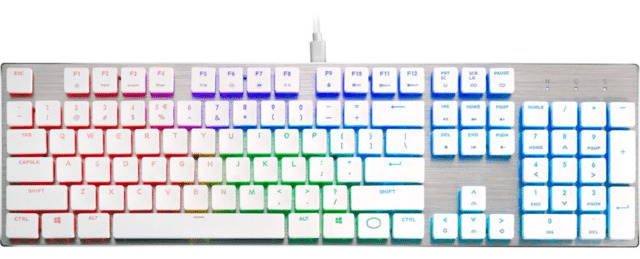 The RGB white gaming keyboard is a unique piece of gear that you can display with pride in your gaming rig. The SK650 is more expensive than the base model due to its one-of-a-kind color scheme. However, the cost justifies the high quality of the product's construction.
While it may not have a palm rest, the SK650 is nonetheless designed to make clicking easy and pleasant. It looks like a typing keyboard (and might be used as such), but its robust switches and beautiful, modifiable 16.7 million color RGB belie its simple appearance.
It's a speedy keyboard that's as quick (or faster) as you are and thinner than the Corsair K70.
Pros
Easy-to-use keycaps
The profile is really low, which is a plus.
Modems with quick response times for switching
Continuous personalization
In-Key RGB Illumination
Cons
Expenses at the highest level
You may not like the flat keycaps
5. KG011 Eagletec
I may have the perfect keyboard for you if you're on a tight budget but still want to play video games. The Eagletec KG011 is the best cheap white gaming keyboard. It's a stylish mechanical keyboard that packs a surprising amount of features.
The blue LED RGB illumination and sleek metal body make for a wonderful package like the blue LED smartglass keyboard. Not being able to change the color temperature of the lights is unfortunate, but the blue is attractive enough. This blue-white gaming keyboard is an excellent option for those who don't want to tweak their screen's white balance and want a cool blue hue.
With its molded keycaps, you can be certain that the keyboard won't lose its luster very soon.
This keyboard is the cheapest option on my list, and if you're starting or will be using it more for work than enjoyment, it's a great choice. For the price, you won't find a better gaming keyboard.
Pros
Affordable cost
Reasonable standard
Acceptable Interrupters
Appears to be good
Cons
Disappointingly poor switches
There are no media-specific buttons
Conclusion
To choose the best one for the task, you need to know what you'll be using it for and how much you're willing to pay. The Corsair K70 RGB MK.2 SE is my top pick out of all the great choices I've shown. Although it may be a little more expensive, you can be certain that you are receiving excellent value. The material is robust enough to survive even the most dedicated gamers, and you also receive some nice extras.