Here we were, assuming or rather thinking that the ancient keyboard was on its way to becoming yet another obsolete device due to the latest Smartphones and touch phone gadgets. But, Luminae from TrasnluSense proved the entire world wrong when it came forward with this wireless, glass, modern looking keyboard.
Luminae Keyboard Model
Luminae has diminished any assumptions that many people had regarding the previous centuries' keyboard models. They did that by introducing this neat looking, most modern Keyboard-that you can customize as you please.
The way this glass keyboard works is quite phenomenal. It has a light-weight pipe, along with infrared LED and even visible LED's that are programmed to feed signals to the glass structure of the keyboard.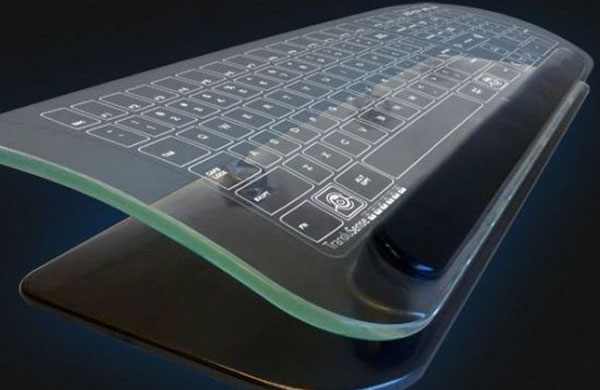 Price
You will not see people fussing over the $500 price of the keyboard simply because they understand that this Luminae product is not only beautiful but as compared to the previous keyboard-where one had to pick food from between the keys, or even vacuum or shake the the crumbs out,this product provides immense relief to everyone.
Jason Giddings – Inventor
Glass Keyboard is big invention in the field of computers and internet technology. Jason Giddings who is the creator of the idea of this keyboard is reported to have  called the keyboard an 'eye candy' and he went further on and said that he wanted the keyboard to be as the ones seen on TV or even Sci-Fi movies. And many users would agree, after using it, that the statement holds quite true to that.
Awesome Features
Apart from all these benefits, another thing that the user can enjoy is the glowing colors of the keyboard that change in different backgrounds. And if any user, becomes bored and tired by this then the user can just peel of the previous skin and apply a new one.
Even after all this, the people at Luminae went a step further and added a multi touch.
They keyboard is just brilliant, it is beauty in every sense and it would make anyone grab one of these designs as soon as possible and run their fingers over the articulately made glass design.