Do you know why everyone is talking about the Tesla Model Y 2023 these days? Well, it is because Model Y is the only Tesla electric car that works on a Tesla 4680 battery.
It is the fourth car in Tesla's lineup. With a closer look at its size, I can tell it's smaller than the Model X but bigger than the Tesla Model 3 sedan. Many people like this electric car because it covers long distances with less power. It's full of advanced technology.
covers a long distance on less power
speed is quite fast
Easy access to Supercharger stations for long trips
Huge seating and storage area
The touchscreen control system can be distracting for some drivers
It lacks Apple CarPlay or Android Auto for connection
Performance
Due to its good acceleration, it travels very fast.
On Urban Areas
Tesla Model Y doesn't release dangerous smoke into the air. That is why it is the right option for urban areas.
It is good for city driving in various ways. It does not have any gear changes to contend with, as it only contains a single forward gear. That is why I found it even smoother in comparison to a common automatic transmission. Moreover, the Tesla Model Y offers impressive city performance. Because it assists you in merging into traffic easily. You can get the momentum up to 30 mph without delay.
However, there are some downsides to the Tesla Model Y. The Model Y of Tesla has a firm ride. This is so accurate when equipped with larger alloy wheels. It can feel quite bumpy when driving over potholes. You can hear the sound of the shelving working.
The Model Y has limited visibility in the rear, which could be problematic when parking. But there is a good side as well. It is Tesla's outstanding camera system. It provides a clear view all around the car. With this Tesla Model Y camera, you won't accidentally damage those pricey-looking alloy wheels.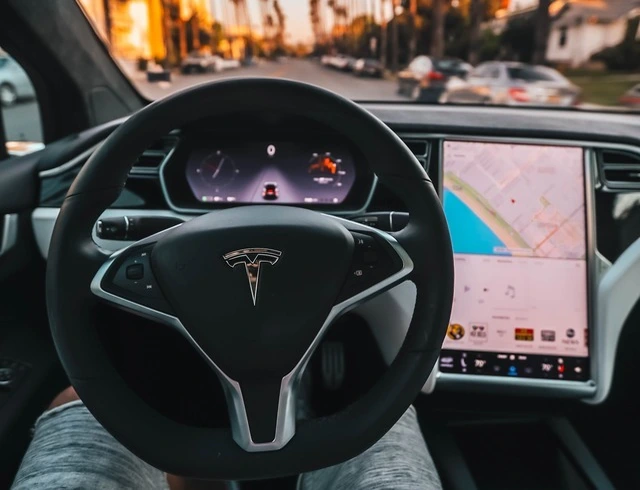 On motorways
While certain electric cars are quick in city driving but lose their punch on the highway. Luckily, that's not the situation with the Tesla Model Y. This car is exceptionally speedy.
Certainly, being a capable motorway car isn't solely about accelerating to 70 mph as soon as you merge onto the highway. Just like Tesla's performance in city driving. There are both positive and negative aspects to consider. The firm ride quality in the city doesn't become smoother at higher speeds. The car might feel somewhat restless compared to cars like the BMW i4. Furthermore, the Model Y is noisier than many other electric vehicles. The road noise tends to bounce around inside the tall and spacious cabin.
If you use the Tesla Autopilot, the Model Y can do a lot with Tesla's self-driving features. But you still have to watch and be conscious to take over if required.
On Curved paths
The Tesla Model Y is enjoyable to drive when the road gets curvy. But it's not as much adventurous as the Tesla Model 3. The Model Y has a stiffer suspension and is heavier, which makes it less handy. It still has very precise and quick steering. But somehow it doesn't feel as genuinely sporty.
You can switch from one turn to the next fast, especially if you pick one of the four-wheel-drive models. They handle power on the road very effectively, even if it's wet and slippery. Even the basic rear-wheel-drive model is quicker than a lot of other electric SUVs.
Space
Whether you're looking to adjust the steering wheel, seats, or even the door mirrors, you must navigate through a touchscreen menu. Use the little buttons that are available on the steering wheel. This process takes more time compared to adjusting seating in most other cars.
However, there's a convenient feature where you can create a driver profile. It stores your preferred seating position and mirror angles. Therefore, you do not need to constantly tinker with the direct all the time. There are spacious storage compartments in the doors and additional storage areas. Also, cup holders are between the front seats. If you lift the driver's armrest, you'll discover even more space. There's a glovebox, but you have to use voice commands or the touchscreen to open it. This feature of model Y can be unnecessarily complicated sometimes.
In the back, there's more space for your head and legs compared to the Model 3. All the seats are a bit higher. Therefore, you can easily look outside. When you fold down the back seats, you get a really big 1,869-liter storage area, which is even more than what you get in the spacious.
Electric Range
Tesla provides some of the most extensive electric vehicle ranges for your money. The standard car boasts a declared range of 283 miles. Suppose you opt for the Model Y Long reach. You get 331 miles, and the performance version is estimated at 319 miles.
Charging these cars is quite alike. The Model Y can charge as fast as 250 kW, while the Ioniq 5 can charge at 220 kW. And the EV6 is in the middle at 233 kW. According to Tesla, their chargers can give you about 150 miles of reach in just 15 minutes.
How practical is the Tesla Model Y?
In the Tesla Model Y, your seating position is elevated compared to the Tesla Model 3 features. However, it is not as elevated as in a Land Rover. It maintains a sportier feel.
The seats and steering have good alterations. With its steering wheel moving up and down and back and forth. Nevertheless, fine-tuning your driving position can be a bit cumbersome in this car. Because you have to make even simple changes through the touchscreen.
Is the Tesla Model Y good for me?
The Tesla Model Y is like the taller SUV class of the Model 3. It has the same great range and uses Tesla's fantastic global charging system. However, some people find it frustrating that you have to control everything using the touchscreen.
It's a bit longer and wider, but notably taller. That makes it look a bit like a smaller Model X. It competes with cars like the BMW iX3 and the Mercedes EQB. So, if you love voice commands and touchscreen features, model Y is a good car for you.
FAQs
Is the Tesla Model Y a safe car?
This car is exceptionally safe. The Model Y has gained high praise from the security specialists at Euro NCAP.
The Tesla Y car has many cool features to avert accidents. It also performs well in case of a crash.
In terms of security, you can activate Sentry mode. This mode uses the car's cameras to record any activity around it.
What is the price of the Tesla Model Y in 2023?
Tesla Model Y 2023 price ranges from $46,630 to $52,490. It is a bit expensive model, but it has advanced features. Additionally, it is the only model that contains a Tesla 4680 battery at this time.
Please follow and like us: