The KURATAS Robot On November 28th, 2012. The Robotic expert Kogoro Kurata has unveiled his thirteen foot custom build giant "KURATAS" robot at an exhibition in Tokyo. The robot can be controlled with an inside built-in pilot seat which can easily be controlled and operate with its massive arms and move it all around at a speed of up to 6 mph.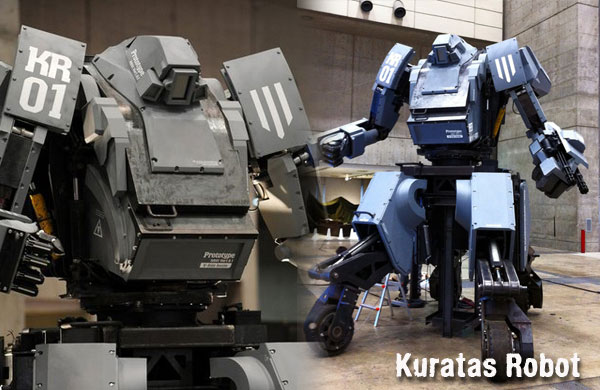 The KURAT "Interesting Features"
The interesting feature of this robot is that, it can also operate with an iPhone (Smartphone) as well. Like many Japanese, Kogoro Kurata grew up watching fantasy science fiction or animation movies. Wishing that he could bring them to life with pilot inside it.
More Interesting Robot Qualities
Although the machine is still a prototype and well equipped therefore with an operating system that allows remote control function from iPhone. The with an optional "Robocop" style additional guns that shoot plastic bottles.Therefore or powered by a lock-and-load system and come in sixteen different and attractive colors. The 4,000-kilogram robot can be able to activate a cannon that fires up to seven thousand bullets a minute. Another attractive feature of this robot is that, it has a rocket launcher firing missiles filled with compressed water.
KURATAS Robot Price
The designer Kurata has started taking onlineorders through his site. The robot is available in a paint scheme with cup holders and the basic model will cost around US $1.3 million for each robot. It takes two years to cover up the distance from concept to construction.
Popularity Of Mr. kurata; The Designer
According to designer Mr. Kurata, a well-known artist specializing in iron installations, is now receiving thousands of inquiries about buying a robot; his robot gained immense popularity all around the world in just a few days. Its developer revealed more than 3,000 orders. This invention might be able to make a society that uses robots in a way I can't even imagine.
Ambition Of Making Kuratas Robot
It took a lot of trial and error in building the robot. All of the mech's assembly is handled by Kurata, he would like to experiment with walking mechanisms but the space and equipment constraints make that difficult. Despite the military paint and guns in robot, the artist still insists that this is machine for peace.