With its new stylish look and higher performance 2013 Hyundai Sonata is a clear pick!
The Sonata by Hyundai is mid-size sedan car with powerful engine and fluidic carving. It deals with two best-selling mid-size cars i-e Honda Accord and Toyota Camry.
Basic Specifications of Sonata 2013
MSRP: $21,195
Body style: Sedan
Fuel Economy (Highway): 35 mpg
Fuel Economy (City): 24 mpg
Horsepower: 198 @6300
Weight: 3199 Ibs
Power: 198 hp @6300 rpm
Height: 57.9 inches
Width: 72.2 inches
Ground clearances: TBD
Length: 189.9 inches
Engine: 2.4L 14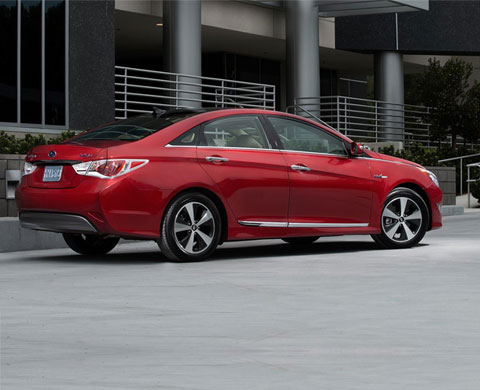 Lineup/models
Sonata GLS (MSRP from $21,195)
Sonata GLS is powered by 198 horsepower. It has 60/40 split folding rear seat and a six speaker, audio system (104 watt), satellite radio, heated front seats, automatic light control, fog lights and the wheels are 16 inches with plastic covers.
Sonata SE ( from $23,545)
Sonata SE is the sporty yet comfortable model with manual shift feature. It comes with 18 inch wheels (alloy).  It can be upgraded with 2.0 liter turbo charged four and 274 horsepower.
Limited (MSRP from 25,845)
It's the most luxurious model and available with the standard engine. This car has a climate control feature, sunroof, leather seats, and heated front and rear seats, 17 inch wheels (aluminum)
Sonata Hybrid model
Hybrid version is powered by 2.4 liter engine and a 40 horsepower electric motor. It can run at up to 62 mph on electric power alone.
Safety Features
Safety features include front impact airbags, head protection curtains, anti-lock brakes (ABS and EBD), electronic stability control, tire pressure monitor and many more.
Likes
It is very fuel efficient and sporty yet comfortable with modern exterior and interior. The latest Sonata is slightly larger than the earlier one. Most interesting difference between model 2012 and 2013 is about its power! Power is down 7hp in latest model of Sonata. However, torque is up 40 lb-ft. Sonata's 2.4 liters four cylinder delivers 198 horsepower.
Hyundai Sonata 2013 is better and improved because its better insulated and regenerative braking is smoother. It hits 600 mph in 9 seconds.
Sonata 2013 gets an update navigation system.
Hybrid model can be driven at high speeds in electric mode.
It's a roomy sporty car; passengers can have as much space as they want.  In addition to the security system, Sonata offers a rearview camera system too.
Where other hybrid melds the electric and gas motors together by CVT, Sonata 2013 uses its traditional six speed automatic. But this time its transmission is not the same old one, Hyundai now looked over it and now you will enjoy a smother and less experiment feeling product!
Dislikes
Hyundai Sonata could be mistaken for a Lexus Luxury sedan or Mercedes Benz from several angles. As compared to 2012, there are only minor feature changes for 2013's model. Bluetooth, USB port, telescoping steering wheel, and power accessories are included again at base level.  Standard heated front and rear seats, sunroof, back up camera, automatic climate control are added again in the Sonata Limited.
Sonata has limited rear headroom and a numb steering.
Hyundai Sonata 2013 is improved and better than the previous models.  It's affordable and comfortable. However consumer report rated it as an average among other sedan cars in market.
Sonata SE ( from $23,545)
Please follow and like us: